Sonomatic Announces Immediate Expansion Plans in Aberdeen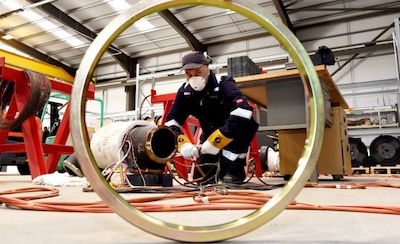 In response to an increased demand for our unique NDT inspection services in the North-East of Scotland, Sonomatic, a global leader specialising in Advanced and Conventional NDT Inspections, Engineering, Integrity and Rope Access services, is announcing expansion plans to provide additional radiography capacity within its base at The Core, Bridge of Don, bringing the total number of bays available to five.

Just three years ago, Sonomatic invested in building a brand multi-disciplined facility covering the entire range of NDT Inspections, housing three radiography, one hydro testing bay and the ability to perform heat-treatment on client's equipment.

Now the company is expanding the NDT facility to house five radiography bays, two hydro bays and four heat treatment machines. Sonomatic have also been committed to developing and improving a state-of-the-art online reporting system offering immediate client reports, as well as a unique service of employing a full-time driver to help clients with urgent collection and deliveries.

Tracy Anderson, Sonomatic's Regional Manager, says, "This is an exciting time for Sonomatic and, we hope, for our clients. Our team are dedicated to their chosen profession and take immense pride to meet our client's needs and it is this commitment and the trust we have built with them, that has allowed us to invest further in Aberdeen and extend our workshop service area, ensuring we meet all of our client's capacity requirements, deadlines and especially those last minute urgent turnaround times!"

Sonomatic also offer highly qualified Phased Array Technicians, as well as mobile NDT services to all onshore and offshore clients, including UT, Eddy Current, MPI, Liquid Penetrant, Radiography, on-site radiography (a mobile dark-room is also available for longer term contracts) and heat-treatment.

Sonomatic have also been highly successful in our term contract service, giving our clients the full benefits of working with our engineering division and our specialised Inspection divisions, providing our clients with solutions to the most challenging of Inspections. With all three divisions based at The Core, Aberdeen, and extending to Grangemouth, Sonomatic offer a truly unique service to their clients as they face more adverse challenges in the NDT world.

The 24 hour a day base is due to open its 4th and 5th bays in early April, creating more jobs which is something Sonomatic has been committed to since The Core opened, less than three years ago.

Tracy adds, "We've worked very closely with our clients throughout the last three years and would like to thank them for their on-going support and feedback. It is this feedback that allows us to provide a very different service to that of other NDT companies."

"All of the benefits listed above provide cost efficiencies to our clients, built and supported by our unshakeable integrity and professionalism in every single service Sonomatic provides. We are there FOR the client every step of the way and will continue to look for ways to support them and provide innovative solutions for what can be a very complex market," says Tracy.

Sonomatic has plans for a Phase 3 extension, which is expected to begin at the mid to end of 2019, building a fit for purpose painting and blasting service, providing clients NDT, Hydro-Testing, Heat-treatment and painting all under one roof!

About Sonomatic

Sonomatic has been in operation for over 40 years and brings together extensive experience of Specialised Inspection, Conventional NDT Inspection and Rope Access Technicians along with industry leading Integrity Engineering capability. Sonomatic's capabilities for the development of software, equipment, scanners and bespoke developments, coupled with the expertise of our engineers, means we are among the leaders within this highly specialised field. Our goal is to utilize technical resources to help our clients in the oil & gas, petrochemical and power generation industries to achieve their business goals.

We do this through focussing on reliability using skilled and competent personnel; and by maximising efficiencies, developing and utilising the most appropriate technological solutions in the true spirit of innovation. Sonomatic has operational bases in has operational bases in Aberdeen, Grangemouth and Warrington in the UK, Perth and Brisbane in Australia, Abu Dhabi and Muscat in The Middle East, Johannesburg, and Vanderbilt Park in South Africa, and North Carolina and Houston in the US.