Pine Features FLIR GF320 Series That Tracks and Detects Gas Leaks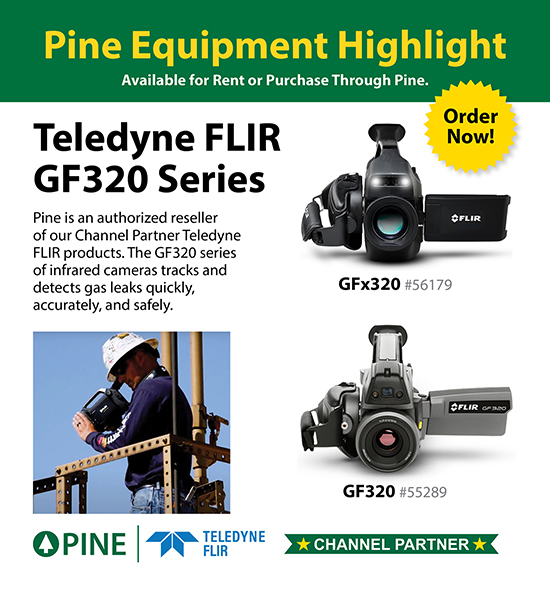 Pine is an authorized reseller of our Channel Partner Teledyne FLIR products. The GF320 series of infrared cameras tracks and detects gas leaks quickly, accurately, and safely. Available for rent or purchase. Pine provides rentals, terms, and rent-to-own options.

As a company dedicated to the development and manufacture of innovative sensing solutions, Teledyne FLIR welcomed the collaboration with Pine Environmental to bring thermal imaging, measurement, and diagnostic tools to more customers.

Mark Fishburn, Senior Regional Sales Manager at Teledyne FLIR, says, "Pine Environmental has been a long-standing advocate of FLIR products in multiple industries and has shown a unique relationship link in the oil and gas space. We're excited to further develop this relationship and grow into Pine's family."

About Pine:

Pine Environmental Services LLC (Pine) is a Professional Service Company, engaged in providing rental equipment in the U.S. and Canada for Environmental Monitoring, Non-Destructive Testing, Visual Inspection, as well as Continuous Emissions Monitoring (CEMS). Pine has the largest stock of Test & Measurement rental equipment in our warehouses across North America. The condition of our equipment is regularly assessed under strict quality control measures, cleaned, charged and calibrated prior to delivery. Pine is completely focused and committed to putting Test & Measurement equipment into the hands of those who need it, through short, medium or long-term rentals. Pine also provides customized and alternative financial offerings for extended project requirements. Pine is committed to provide technical and application support on our wide range of Test & Measurement equipment and to make the availability of, and ease of access to that equipment, second to none.