Click to see Submenus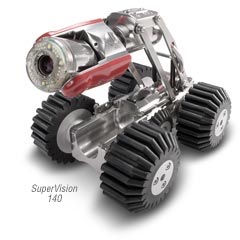 Company: Envirosight
Address1: 111 Canfield Ave.
City: Randolph
State: NJ
Country: United States
SuperVision - Remote Operated Camera

Setting a new benchmark for performance and agility, SuperVision rapidly
evaluates pipe condition and identifyies maintenance needs. Like ROVVER,
SuperVision emphasizes maneuverability with a host of attributes: short
wheelbase, steerable six-wheel drive, modularity for easy reconfiguration,
and an array of traction options. However, it introduces new features
specifically designed to boost operator productivity:

Lightweight cable extends range to 1640'.

A remote-operated camera lift centers the view in various line sizes.

An integral rear-view camera helps prevent flips and cable snags during
reverse
travel.

Simultaneous control of multiple crawler functions boosts efficiency of
control.

Proportional joysticks control speed of crawl, pan and tilt.

Extensible system architecture allows attachment of auxiliary sensors and
end-
effectors.

Onboard diagnostics maximize uptime.

Ultra-rugged stainless steel construction tolerates extreme environments.
Like ROVVER, SuperVision is designed to be maneuverable, configurable and portable. However, it leverages embedded digital control technology to deliver greater inspection range, more robust control, and extensibility. Lightweight, Kevlar-jacketed cable lets crawler travel as far as 1640'. Digital control architecture allows concurrent control of multiple functions; performs onboard diagnostics; and supports the addition of sensors and end effectors. Three available chassis sizes and 18 available wheel sets combine to inspect practically any infrastructure. Steerable 6-wheel drive and compact wheelbase maneuver around obstacles, climb over offsets and debris, and fit through curved inverts. Articulated zoom camera and shadowless LED lamps maximize image detail and view distance. Automatic cable reel feeds cable to crawler while preventing slack, allowing true one-person operation. Rear-view camera (standard on 140 and 250 Series crawlers) helps prevent flips and entanglement during reverse travel. Desktop and handheld pendant controls allow operation in the studio or at the manhole. Field-proven performance ensures maximum uptime and industry-low cost- of-ownership. System is easily outfitted for laser profiling, sidewall scanning (summer 2009) and lateral launching (spring 2009). IL, CE and IP ratings ensure operator safety. Integral SONDE makes locating easy; built-in inclinometer lets you graph pipe grade.
SuperVision is available with: Two controls (handheld portable, and studio with rackmount CCU), each with highly configurable text writer Three cable reels (automatic, handheld semi-automatic and handheld manual), with up to 1640' of cable and a footage counter Three chassis sizes (SuperVision 95 for 4-12" pipes, SuperVision 140 for 8- 30" with auto camera lift, and SuperVision 250 for 9-60" with auto camera lift and freewheel clutch) Three cameras (pan/tilt, pan/tilt/zoom, deep-dive pan/tilt, deep-dive pan/tilt/zoom) Crawler Accessories SuperVision is available with 18 wheel options, ensuring maximum traction on a wide variety of surfaces. An axle extender is also available to widen crawler stance. Wheels change in minutes for maximum productivity. Scalability SuperVision is available with a laser scanning attachment and software, helping you extract critical geometric data to quantify pipe ovality, corrosion/erosion and collapse, as well as verify proper liner installation.