Suragus EddyCus Wins JEC Innovation Award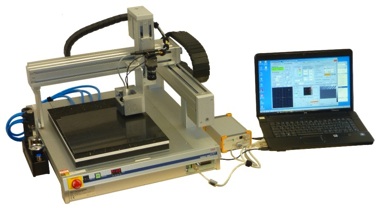 The SURAGUS GmbH has qualified with EddyCus® CF map 6060 for the
established JEC Innovation Award Asia 2013. The unique concept of non-
destructive testing of carbon fiber materials has convinced the JEC Group jury to
nominate us for the coveted 15. JEC Innovation Award Asia 2013. EddyCus CF
map 6060 allows a non-destructive testing of carbon fiber composites, the
visualization of their fiber structure and detection of effects and defects even in
hidden layers.

The EddyCus CF map 6060 utilizes the low electrical conductivity of carbon
fibers and induces high-frequent eddy-currents in the test structure. Depending
on the existent fiber properties, an opposing field is created and characterized
with different sensors. Up to 5000 measurements per second are possible. They
were presented in real-time and high-resolution in the so-called EC-scan.
The EddyCus CF® map 6060 can handle flat and slanted samples up to 600 x
600 m2 without any coupling media and allows the determination of parameters
like fiber orientation, distribution, spacing, thickness, volume and mass.
Furthermore many defects can be detected, for example delaminations, fiber
breaks, undulations, gaps, misalignments or impacts.

Our technology can be used not only for raw carbon fibers but also intermediates
(woven fabric, non-crimp fabric, fleece, braid, et al.) and end products (carbon
fiber reinforced plastics CFRP). Therefore our EddyCurrent method is an
innovative tool for quality assurance of the entire production process, helps to
reduce nonconformity costs and opens new market segments in safety-related
components.

This correlates with the goals of the JEC group to promote and reward composite
innovations. Over 15 years their widely recognized program acts worldwide in
Europe (Paris), America (Boston), China, India and Asia (Singapore). On the JEC
Asia 2013 in Singapore the JEC Innovation Award Asia 2013 will be awarded to
Suragus GmbH for our EddyCus® CF map 6060.