NDT Jobs, News, Companies and Equipment for Industrial Inspection, Welding, and Nondestructive Testing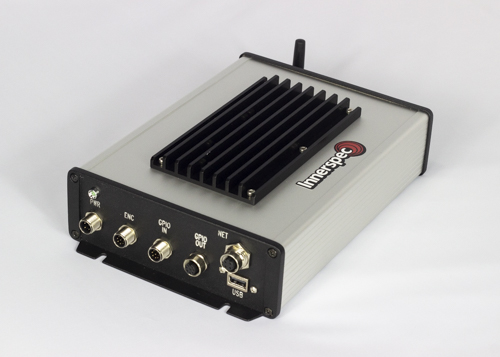 Innerspec Launches New Non-contact Ultrasonic Thickness Gages
Innerspec launches new line of Ultrasonic Thickness Gages without contact and couplant. The new gages use Electro Magnetic Acoustic Transducer (EMAT) and Dry-Coupled Ultrasonic Testing (DCUT) technology to provide thickness measurement on materials ranging from 1mm to 1m (0.040" to 40") with an accuracy of +/-2.54µm (+/-0.0001"). The EMAT non-contact ultrasonic technique permits one-side measurements at temperatures ranging from -30ºC to 650ºC (-22ºF-1202ºF), making it ideal for process control in productio
...Read More.
New Product: Integrated Leeb Hardness Tester TIME510D
TIME®510D is an updated version of TIME5120 Leeb Hardeness Tester, the cheapest and most popular leeb hardness tester manufacturer by TIME Group Inc.. It is portable and integrated with universal impact device D. Compared to TIME5120, the new product has been optimized in both outlook and functions. 1. Outlook ● A totally new appearance with industrial style. ● Solved the problem that the rubber paint of TIME5120 is sticky and hard to clean after continuous usage. ● Redesign th
...Read More.
DÜRR NDT Releases High Resolution Flat Panel X-ray Detector
The extremely robust new DRC 2430 NDT flat panel detector has been specially developed for maximum portability and the harsh conditions of field radiography and can also be used with both X-rays and gamma sources. The heavy duty one-piece aluminum housing ensures maximum protection against the external environment with the unit being both dust-tight and waterproof (IP67 classification according to IEC 60529). Images produced by the DRC 2430 NDT feature both excellent contrast and industry-leading high
...Read More.
Flyability's Elios Drone Radiation Hardened to 800 R/hr
Used in the nuclear industry in five countries and equipping more than 30% of all U.S. nuclear plants, Elios is used to prevent sending humans to perform visual inspections in radioactive environments, increasing workplace safety. Amongst the most successful public use cases of Elios, a major US energy producer saved half a million in loss of production - in a single flight - by sending the drone to check for a suspected leakage in the basement of a reactor while under operation without exposing their worke
...Read More.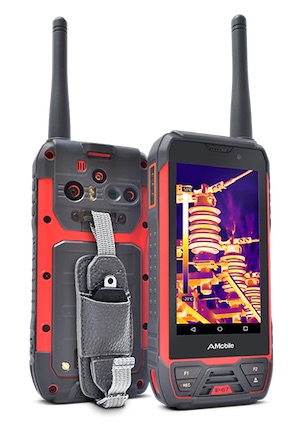 AMobile Thermal Imager Earns International Design Excellence Award
AMobile Intelligent Corp. Ltd., a joint venture by MediaTek, Arbor, and Konka Group, an expert in industrial mobile computers, has achieved its design pinnacle by receiving the International Design Excellence Award (IDEA) 2018 organized by The Industrial Designers Society of America (IDSA). The awarded product, Mobile Inspection Assistant G60, has won Red Dot, Good Design, Computex d&i, Taiwan Excellence, China Industrial IoT, and IDEA Award, which proves AMobile's capabilities of R&D and Innovations, as we
...Read More.
Airlines for America and SAE International Recognize Lufthansa for NDT
Industry applauds Karsten Kaiser of Lufthansa Technik and Michael Ernst of subsidiary 3D.aero for furthering the science and efficacy of nondestructive testing. Officials at SAE International in Warrendale, Pa., and Airlines for America (A4A) in Washington are recognizing Karsten Kaiser of Lufthansa Technik and Michael Ernst of subsidiary 3D.aero for furthering the science and efficacy of nondestructive testing (NDT), having presented them with the 16t­­­­­­h annual Nondestructive Testing (NDT) Innovatio
...Read More.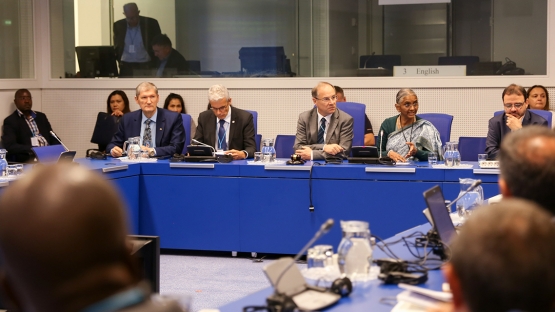 Using Non-destructive Testing for Safety of Public Buildings
The use of radiation techniques in non-destructive testing (NDT) during the construction of public buildings, bridges and utility pipelines can significantly minimize the damage caused by natural disasters and save lives, concluded panellists at a side event during the 62nd IAEA General Conference today. Participants discussed key nuclear techniques for NDT and how the IAEA has assisted governments to use this technology for evaluating the integrity of structures in Nepal, Ecuador and Mexico, following eart
...Read More.
Ashtead Appoints New Corporate Development Director
Global subsea equipment specialist, Ashtead Technology, has underlined its commitment to continued growth with the appointment of Stephen Steele as corporate development director. Mr Steele brings more than 20 years of oil and gas experience to the business and will play a pivotal role in strengthening the company's market position as it aims to drive further international expansion and widen its service offering. Based at the company's UK headquarters in Aberdeen, Mr Steele will lead Ashtead's acquis
...Read More.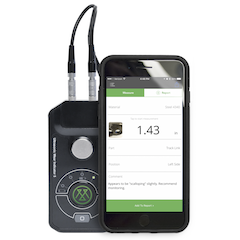 Wear Measurent Device (Ultrasonic)
Modustri
Modustri (modustri.com) has developed an Ultrasonic depth gauge that connects directly to an iPad iPhone through Bluetooth. By steaming all of your measurement data directly to your iPad or iPhone, it enables you to capture measurements, notes, and photos all in one spot! It then automatically generates a report that you are able to send back to customer, or site managers. Modustri has already used this technology to develop inspection applications with Corporate partners to create company specific inspe
...Read More.
Borescopes
PCE Instruments / PCE Americas Inc.
By using PCE Instruments' borescopes for machine condition monitoring, manufacturers can identify changes indicative of a machine fault and take corrective action prior to critical machine failure.
...Read More.
Pan-Tilt-Zoom Camera INVIZ SNK
Vizaar
The Pan-Tilt-Zoom Camera INVIZ® SNK with 40x optical zoom, precisely "Stop & Go" scan function & extensive range of Pan-Tilt-Zoom Camera accessory. The world's most reliable Pan-Tilt-Zoom Camera. Pan-Tilt-Zoom Camera INVIZ SNK for Remote Visual Inspection (RVI) of tank & vessels Remote Visual Inspection Remote Visual Inspection in refineries Remote Visual Inspection in tanks / vessels Remote Visual Inspection in nuclear industry Remote Visual Inspection in power generation Remote Visual Ins
...Read More.