Jobs, News, Companies and Equipment for Industrial Inspection, Welding, and Nondestructive Testing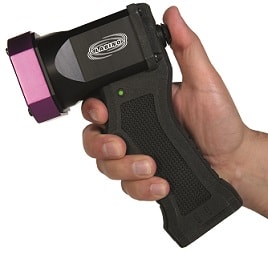 Labino Announces ASTM E3022-15 Compliance for UV Lamps
Stockholm, Sweden (February 7th, 2016) – Labino AB announces compliance with ASTM standard E3022-15 "Standard Practice for Measurement of Emission Characteristics and Requirements for LED UV-A Lamps Used in Fluorescent Penetrant and Magnetic Particle Testing". Labino AB would like to inform its customers worldwide that the following products, BOTH BATTERY OPERATED AS WELL AS MAINS OPERATED, comply with ASTM E3022-15. LED BENCH LIGHT GALAXY LED HANDHELD LIGHT BIGBEAM LED HANDHELD LIGHT MIDBEAM 2
...Read More.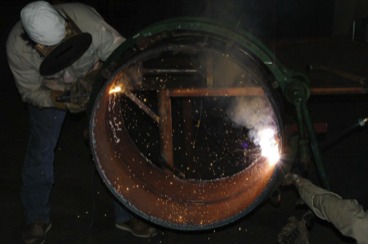 ALS acquires Maverick Testing Laboratories
ALS is pleased to announce the acquisition of Maverick Testing Laboratories, Inc. and Mav-Tech, Inc. (Maverick). Maverick operates from laboratories in Houston and Corpus Christi, Texas and employs approximately forty people. Maverick provides materials engineering, welder qualification and mechanical testing services predominantly to the downstream oil & gas and petrochemical industries in the Gulf Coast of the USA. The business will form part of ALS Industrial which provides diagnostic testing and engi
...Read More.
Acuren Acquires Applied Inspection Limited in UK
Acuren, the global provider of non-destructive testing (NDT), inspection and related services, has acquired Applied Inspection Limited which was founded in 1984 and operates from four laboratories in Burton, Chesterfield, Ossett, West Yorkshire – and Glasgow. Applied Inspection Limited is a leading provider of NDT, materials testing and training services across a range of industries in the United Kingdom. "We are very pleased to welcome the entire Applied organization to the Rockwood family," sai
...Read More.
Construction Thermography at the Highest Level
More and more buildings are being damaged due to moisture, cracks or leaks, creating increased expenses for their owners. This is according to the Building Research Institute in its latest report. Experts are currently using the cooler season to more accurately assess the situation with construction thermography appraisals. The infrared cameras in the family VarioCAM ® High Definition by InfraTec are the ideal tools for this task. The professional and universal cameras allow for detector resolution of u
...Read More.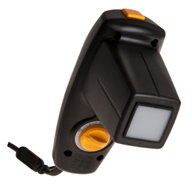 Sonatest to Distribute DolphiTech CFRP Ultrasound Camera as SonaCam
DolphiTech today announced a global distribution agreement with Sonatest. Sonatest will market a specially branded version of DolphiTech ultrasound inspection camera named SonaCam. The SonaCam is a mobile and ergonomic ultrasound camera system designed for NDT inspection of CFRP (Carbon Fiber Reinforced Plastics). A unique dry and wet transducer technology with high performance signaling electronics creates high-resolution 2D and 3D images of suspected damage areas to verify the status of the material, and
...Read More.
Planys Technology Brings Underwater ROV to India Marine Inspection
A city-based venture has come up with a technology that sounds like a sci-fi movie. Scientific explanation would call it an unmanned vehicle that examines anything under water. But Tanuj Jhujhunwala, co-founder of Planys Technology, which designed the bot, has an easier and cooler definition of what he does. "We build underwater robots," he explains. The start-up, which was born at the IIT-Madras Research Park's Incubation Cell, recently got a round of angel-investor funding and a grant from the Ministry
...Read More.
Articulating Video Borescope | STRAHL Line
Medit Inc.
STRAHL Line RIGEL is a portable, all-purpose 2-way articulating Video Borescope build to meet modern visual inspections needs. It is durable enough to withstand rigors and bumps of routine operations, yet light and portable, making it easy for the operator to work in most confined spaces. The Articulating Video Borescope offers 2-way 180 degree articulation in each direction allowing for thorough examination of the area of inspection. The images are captured with the help of intuitive
...Read More.
Cobra Retractable Pole Inspection Camera
Medit Inc
The telescoping Cobra inspection camera is light weight and built to access hard to reach areas above or below ground such as wells, eaves troughs, attics, suspended ceilings or gutters etc. The telescoping pole that adjusts from 1.6 to 4m had built in IR LED lights to ensure proper lighting in any situation. The images captured by the camera are displayed on a TFT LCD color monitorThe Cobra has a battery life of 3.5 hours in bright areas and 3 hours in dark areas, and taking 2.25 hours t
...Read More.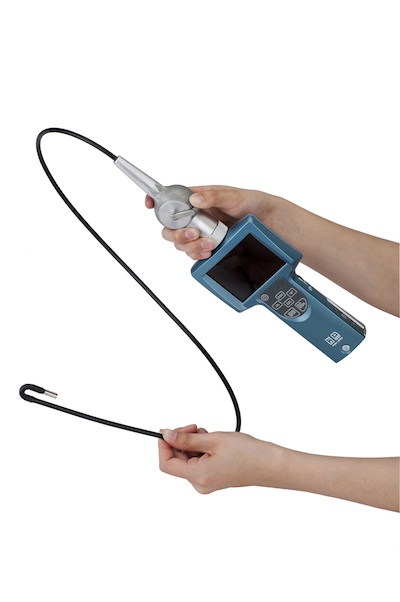 Orion Borescope
Medit Inc.
Medit industrial endoscope line is split into PRO, STANDARD and ECONOMY lines of borescopes (aka bore scopes). It starts with flexible videoscopes both with articulated video probe and non-articulated. Then followed with rigid borescopes with camera and extremely bright led light sources. Flexible fiberoptic borescopes or fiberscopes have traditional tecnology that is well represented in MEDIT articulated line of fiber optic scopes and followed by non- articulated super thin fiberscopes. Pipe ins
...Read More.