NDT News
YXLON CT Compact Computer Tomography System with Line Detector Unveiled
Posted:

2018-9-3
With the YXLON CTScan 3 Yxlon launches its own completely new line detector and replaces the predecessor Y.LineScan. As of now, the CT Compact computer tomography system will be equipped with the new line detector YXLON CTScan 3 as a standard component. In the future, the YXLON FF85 CT and CT Modular systems will also benefit from its capabilities. Ground-breaking technological advancements and optimized production methods deliver unsurpassed image quality, and significantly reduce susceptibility to noise.
...Read More.
Gecko Robotics Raises $7M for Boiler Inspection Robots
Posted:

2018-9-3
Y Combinator-backed Gecko Robotics has raised a $7 million A-round of financing for wall-climbing robots. Gecko's proprietary magnetic adhesion technology works much like the sticky foot of a gecko, allowing its robots to crawl up walls to inspect for damage along the way. According to Gecko, most plants must shut down at least once a year to check for damage to the boiler. To do these inspections crews install 150-foot scaffolds and climb up the walls in search of areas in need of repair. On top of t
...Read More.
Rigaku Presents Latest XRM and CT Technology
Posted:

2018-9-3
X-ray analytical instrument manufacturer Rigaku Corporation is pleased to announce its attendance at the 14th International Conference on X-ray Microscopy (XRM2018), being held August 19-24, 2018 at the University of Saskatchewan. The International Conference on X-ray Microscopy is the principal conference of its community and will bring together experts in the development and use of X-ray microscopes. The conference will address the most recent advances in X-ray microscopy technology and applications th
...Read More.
A Brief History of Pipe Materials from Envirosight
Posted:

2018-9-3
Sewer systems have been around in one form or another for thousands of years. As technology advanced, pipeline materials have changed, improving durability and functionality. With all the developments over time, most utilities have to contend with multiple pipeline materials, each of which has different maintenance concerns and a different lifespan. Early sewer systems Interior of Brick SewerThe first sewer pipes were constructed of brick and mortar in the Indus Valley in 2500 BC. Some of
...Read More.
Contrôle Mesure Systèmes at Tube China 2018
Posted:

2018-8-28
Contrôle Mesure Systèmes will exhibit at TUBE CHINA at Shanghai from September 26 to 29, 2018 at stand E1C10. Specialist for nearly 30 years in nondestructive testing methods, we propose a large range of NDT equipments, especially for tubes and bars inspection, on or off line, in ferrous or nonferrous metal. The 2 mains products of CMS are : - Eddy current rotating heads RotoETscan : for tube inspection, diameter range 1 to 220mm, for surface, subsurface, punctual flaws detection. - Ultrasoni
...Read More.
Aircraft Inspection with Virtual Reality
Posted:

2018-8-27
AFRL researchers are hard at work finding unique ways to make aircraft maintainers' lives a little easier through a technology many associate most closely with video gaming. Using augmented reality, the Materials and Manufacturing Directorate is exploring ways to simplify and expedite Nondestructive Inspection, or NDI. NDI is the inspection of materials or structures to detect flaws or other undesired conditions without causing unwanted damage. NDI is a complex process, and inspectors require signific
...Read More.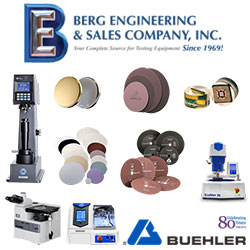 Buehler Brings Companies Quality Metallurgical Supplies
Posted:

2018-8-27
Buehler has partnered with Berg Engineering to offer reliable testing equipment and top of the line metallographic consumables. Buehler has been a trusted name for over 80 years and is one of the top manufacturers of metallurgical supplies. Together, we offer hardness testing consumables for hardness testing applications in sectioning, mounting, grinding and polishing. As one of the leading names in metallurgical analysis, Buehler products stand up to the heavy, everyday usage within your laboratory. Ser
...Read More.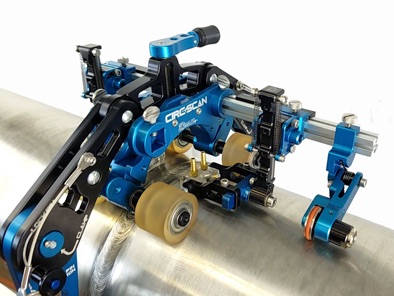 Dorilton Capital Invests in AUT Solutions
Posted:

2018-8-27
Dorilton Capital Advisors, LLC ("Dorilton"), a leading family equity office has partnered with AUT Solutions founder, Bill Blanshan to acquire the assets of AUT Solutions, LLC forming a new entity AUT Solutions Group, LLC ("AUT Solutions"). Blanshan continues to own a significant equity stake in the company and is continuing in his role as CEO and President. "AUT continues its mission of developing products to best serve the needs of technicians while providing a better level of service to the NDT indus
...Read More.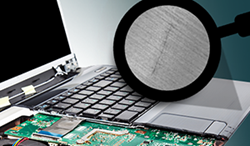 Understanding Machine Vision for Industrial Inspection
Posted:

2018-8-27
Radiant Vision Systems, a leading provider of advanced visual test and inspection systems for electronic devices, announces that it will participate in a webinar hosted by Tech Briefs Media Group, a global engineering solutions source for design and manufacturing. The webinar titled "Understanding Machine Vision for Industrial Inspection" will be broadcast live on Thursday, August 23, 2018, from 9-10:00 AM PDT (12-1:00 PM EDT), and includes a technical presentation by Radiant Director of Advanced Vision Eng
...Read More.
FACC Develops Innovative Testing Robotics
Posted:

2018-8-27
With the research project "Spirit", FACC is taking a decisive step forward in the development of testing robotics. As one of the world's leading technology groups, FACC also focuses on the continuous development of technologies alongside innovative aircraft components and systems. The company has now been selected as a partner within the scope of a EU research project. "SPIRIT - A software framework for the efficient setup of industrial inspection robots" is a research project of the European Union l
...Read More.
Next 10 >>>
Displaying 101 through 110 of 200

More Newss: 1 | 2 | 3 | 4 | 5 | 6 | 7 | 8 | 9 | 10 | 11 | 12 | 13 | 14 | 15 | 16 | 17 | 18 | 19 | 20