NDT News

Fraunhofer to Exhibit Automated Defect Detection
Posted:

2017-10-18
Material defects in end products can quickly result in failures in many areas of industry, and have a massive impact on the safe use of their products. This is why, in the field of quality assurance, intelligent, nondestructive sensor systems play a key role. They allow testing components and parts in a rapid and cost-efficient manner without destroying the actual product or changing its surface. Experts from the Fraunhofer IZFP in Saarbrücken will be presenting two exhibits at the Blechexpo in Stuttgart fr
...Read More.
Detecting Impurities on 3D Components
Posted:

2017-10-18
Impurities adhering to the surface of components can cause problems in later stages of the production process – or even make the entire component useless. A new fluorescence scanner developed by the Fraunhofer Institute for Physical Measurement Techniques IPM allows specialists to inspect metallic parts for residues of grease, machining chips and cleaning agents – for every single item in production cycle. The smallest of details can have huge consequences. For instance, tiny particles of dirt clinging t
...Read More.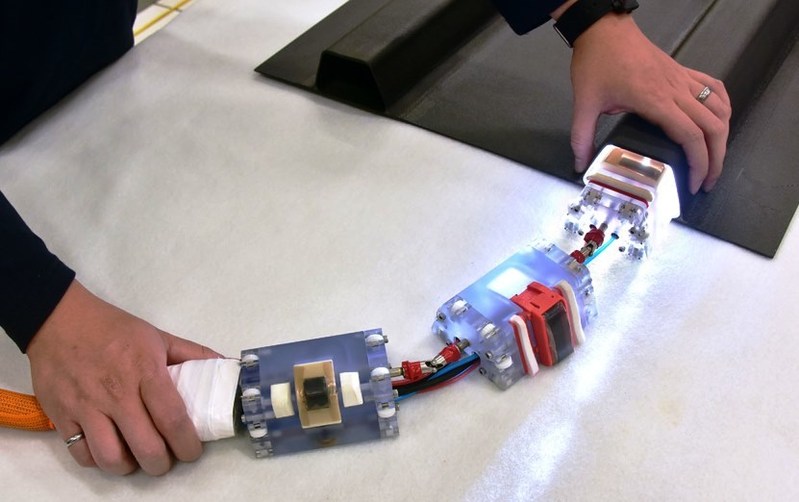 NDT Solutions to Commercialize Spirit's Composite Inspection Device
Posted:

2017-10-18
Spirit AeroSystems (NYSE: SPR) announced it has reached a licensing agreement with NDT Solutions LLC to commercialize Spirit's innovative inspection device for ultrasonic inspection of complex, integrated composite structures. The new technology supports inspection of composite structures from the inside out instead of the typical surface-only inspection. Spirit AeroSystems announced it has reached a licensing agreement with NDT Solutions to commercialize Spirit's innovative inspection device for ultraso
...Read More.

Eddyfi Acquires Product Line from TWI
Posted:

2017-10-17
As a world leader in advanced non-destructive testing solutions, Eddyfi Technologies confirms the acquisition of the guided wave technology and product portfolio from Plant Integrity Ltd., a wholly owned subsidiary of The Welding Institute (TWI). Headquartered in Cambridge, UK, TWI and Plant Integrity have developed, manufactured, and commercialized the Teletest® Focus guided wave NDT system for the past 20 years. The Teletest technology uses long-range guided wave ultrasonic testing to detect corrosion
...Read More.
Olympus Expands its Presence in Quebec
Posted:

2017-10-16
Olympus NDT (Nondestructive Testing) Canada proceeded today with the official inauguration of its new office and manufacturing complex, built at a cost of $37 million CAD in the Michelet Innovation Zone. Situated at 3415, rue Pierre-Ardouin, the new site unites all of Olympus NDT Canada's services and personnel under one roof, enabling the company to better respond to production demands and optimize its research and development activities in support of their extensive portfolio of industrial testing and me
...Read More.
Nubitus Cloud-Connected Memory Stick Updated with Bi-Directional Data Flow
Posted:

2017-10-12
When we were thinking about Nubitus, the cloud-connected USB memory stick, our thoughts were oriented on solving a significant problem in the NDT workflow. We were looking to create a simple device that will ease inspection. By simplifying, we mean: automate non-valuable processes to gain resources efficiency. We accomplished a part of this target when we released the first version of Nubitus. This first version consisted of: Automatically sends data to a server Auto-delete when data is transfe
...Read More.
DÜRR NDT Extends Warranty to Five Years for CR Scanners
Posted:

2017-10-11
Those who rely on quality are rewarded: From today, all computed radiography scanners from DÜRR NDT are delivered with a 5-year guarantee – a rarity in the NDT industry. DÜRR NDT Managing Director, Oliver Ruzek on the new 5-year guarantee: "Our CR scanners have proven their worth every day in non-destructive testing around the world and are characterized by a very low failure rate. The introduction of a 5-year guarantee is a logical progression for us and gives the customer additional peace of mind while
...Read More.
Reliability & Maintenance 2018 Call for Papers
Posted:

2017-10-10
2018 RELIABILITY & MAINTENANCE CONFERENCE May 22-25, 2018 Convention Center San Antonio, TX Call for Presentations Submission Deadline – November 3, 2017 Changes are underway for the 2018 Reliability & Maintenance Conference program. We are looking for presentations on topics considered to have the most significant impacts on the petroleum refining & petrochemical manufacturing industries. We are also working on new sets, room configurations, technology options and greater opportunities for ne
...Read More.
Exhibition at Iran Wire 2017
Posted:

2017-10-10
Quality inspection on wire lines Contrôle Mesure Systèmes will exhibit at Iran Wire 2017 in Tehran, from 6 to 9 December on Stand A6B2. Specialist for nearly 30 years in nondestructive testing methods, we will take this opportunity to present our large range of NDT equipments, especially for wire inspection, on or off line, in ferrous or nonferrous metal. Illustrations below show 2 examples of wire inspection installed: - eddy current rotating head, RotoETscan HV, suitable for line drawing inspec
...Read More.
NDT Company Launches Exclusive High Energy CT Inspection Service
Posted:

2017-10-7
Jesse Garant Metrology Center (USA and Canada) is pleased to announce the launch of its new high energy industrial CT scanning service. With this system, the company will be the only private lab in the world that provides this specialized inspection service. The new capability will transform the landscape for non-destructive testing and support innovation within advanced manufacturing. The system is the first of its kind that pairs a 3 MeV cone-beam x-ray source with a large format 2k x 2k flat panel dig
...Read More.
Next 10 >>>
Displaying 161 through 170 of 200

More Newss: 1 | 2 | 3 | 4 | 5 | 6 | 7 | 8 | 9 | 10 | 11 | 12 | 13 | 14 | 15 | 16 | 17 | 18 | 19 | 20