NDT News
Varex Showcases New Industrial Imaging Products
Posted:

2020-1-23
Varex Imaging Corporation (Nasdaq: VREX) exhibited its latest industrial Nondestructive Testing (NDT) imaging products at the Annual Meeting for the American Society for Nondestructive Testing in Las Vegas from November 18-21, 2019. ASNT Fall is a global event to share ideas and expertise in the field and is attended by many NDT specialists ranging from researchers to leading experts. At the show, Varex introduced their new 'Varex Industrial' brand which has been created to cover their expanding Industri
...Read More.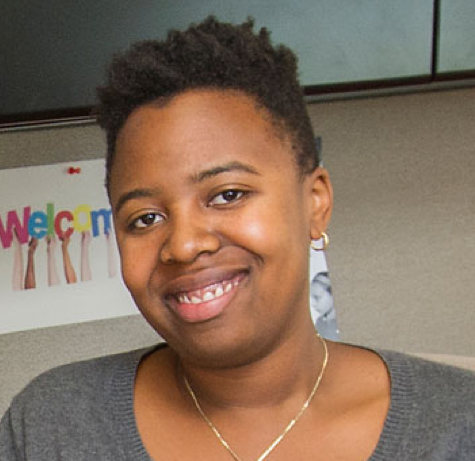 Q&A About NDT Education at Iowa State University
Posted:

2020-1-23
Trishelle Copeland-Johnson is a Ph.D. student in materials science and engineering (MSE). She is currently researching the explosions at the Fukushima Daiichi Power Plant in 2011, and she recently was awarded the American Society for Nondestructive Testing (ASNT) Fellowship. Tell us a little about yourself. Where are you from? What is your academic background? Why did you pursue engineering? I am originally from Florida. I pursued my bachelor's in chemical engineering from the University of South Flor
...Read More.
GPR Imaging Unlocks Images of the Pleistocene Period
Posted:

2020-1-23
Footprint evidence of human-megafauna interactions remains extremely rare in the archaeological and palaeontological records. Recent work suggests ancient playa environments may hold such evidence, though the prints may not be visible. These so-called "ghost tracks" comprise a rich archive of biomechanical and behavioral data that remains mostly unexplored. Here we present evidence for the successful detection and 3-D imaging of such footprints via ground-penetrating radar (GPR), including co-associated mam
...Read More.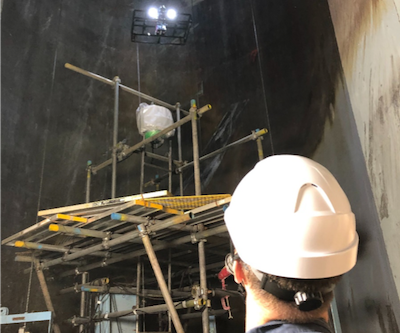 Terra Drone conducts 160m Chimney Inspection
Posted:

2020-1-23
Leading industrial drone solutions provider Terra Drone Corporation has successfully demonstrated its non-destructive testing (NDT) capabilities by inspecting a 160-meter chimney at a thermal power plant in Japan. The chimney inspection was conducted using ultrasonic testing (UT) drone developed by Terra Drone group company Terra Inspectioneering, a market leader in wireless inspection of industrial, hazardous, and enclosed spaces. A major component of the chimney inspection was to measure the thickness
...Read More.
GE and Siena College Scientists to Demonstrate Machine AI
Posted:

2020-1-23
Could industrial machines become MacGyver-like in learning and acting on the fly to solve complex problems? One of the keys will be demonstrating AI that can meaningfully learn from visual and contextual cues. This is the focus of a new research project by scientists from GE and Siena College scientists through DARPA's Grounded Artificial Intelligence Language Acquisition (GAILA) program. DARPA's GAILA program is focused on the development of AI that can achieve childlike language acquisition and underst
...Read More.

Stress Engineering Services, Inc. Acquires Laserstream, LP
Posted:

2020-1-20
Stress Engineering Services, Inc., (SES) the global leader in consulting engineering services and solutions, has acquired Laserstream, LP, a technical service company specializing in laser mapping of tubular assets. The acquisition will provide high-resolution pipe ID scanning hardware and imaging software while enhancing SES's competencies within upstream, midstream, downstream, aerospace, consumer, and medical services. The acquisition adds to the strength of SES's present technology portfolio of se
...Read More.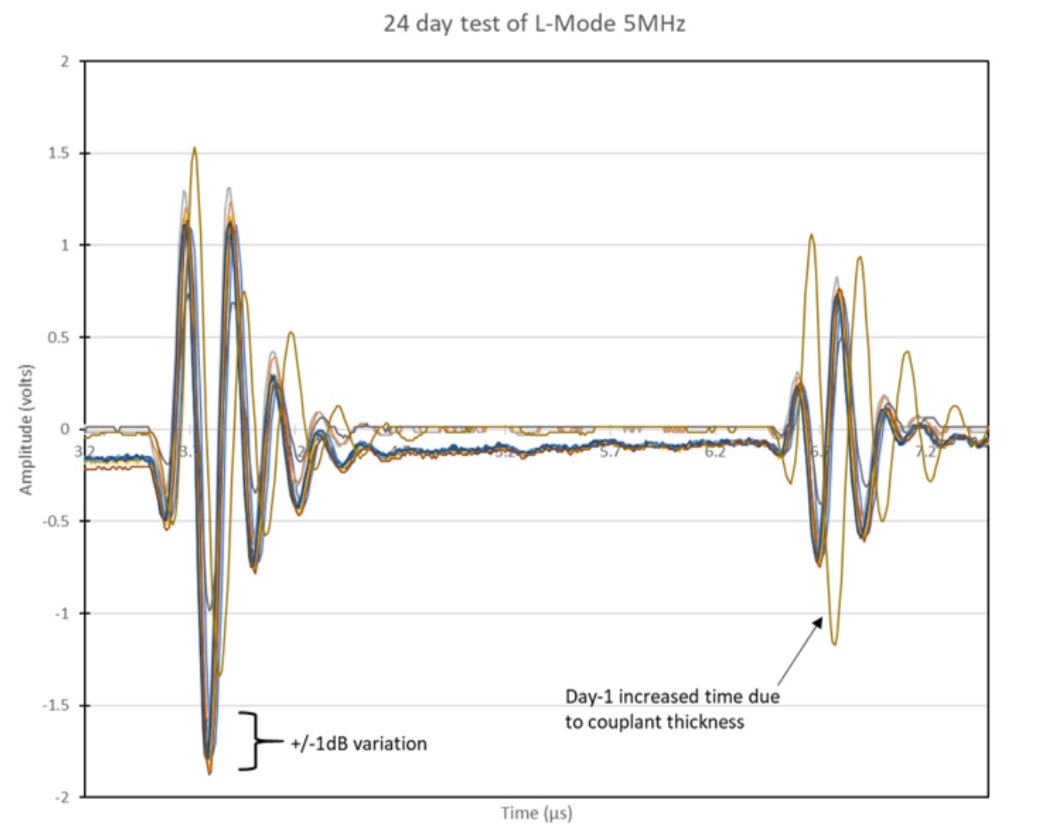 Innovation Polymers Introduces Aquabond 200 Couplant for Long Term Probe Placement
Posted:

2020-1-20
Innovation Polymers introduces a new formulation couplant for long term acoustic coupling. Aquabond 200 is a lower viscosity polymeric couplant than the initially introduced Aquabond 100. The new couplant can be easily applied without the aid of heating. Due to its lower viscosity, Aquabond 200 provides an excellent means of coupling probes to refracting wedges or probes and wedges to test components under long term tests, such as flow metering and acoustic emission tests. Aquabond 200 support
...Read More.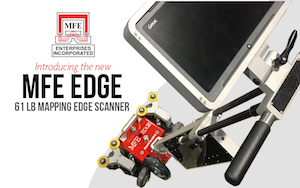 MFE Enterprises Announces New 61 lb. Mapping Edge Scanner, the MFE EDGE
Posted:

2020-1-16
MFE Enterprises announces the launch of its new 61 lb. manual and mapping edge scanner today, the MFE Edge. MFE Enterprises applied the superior mapping software and reliable technology of its coveted Mark IV Tank Scanner to the functionality of an edge scanner when designing the MFE Edge. One of the most exciting features of the Edge is its ability to map the critical zone. Mapping an impressive 1/8 inch from the shell wall takes inspectors to unprecedented territory. Operators may utilize the MFE Edge
...Read More.
MFE Adds New Dubai Location to MFE Middle East
Posted:

2020-1-14
DUBAI, UAE, January 14, 2020 -- MFE announced today the opening of a new MFE Middle East location in Dubai, UAE. MFE Middle East brings the comprehensive inspection support of its North American MFE counterparts across the globe. This new office will serve as the MFE Middle East headquarters and will provide full-service support to inspectors including equipment rentals and sales. The new Dubai office joins the MFE Middle East in Cairo in MFE's efforts to bring top inspection equipment to the Middle
...Read More.
Signal Conditioning in the Vantage Research Ultrasound System
Posted:

2020-1-14
The Vantage™ Research Ultrasound System includes a high-performance data acquisition platform that provides multiple transceiver channels, receive signal conditioning electronics, deep local memory and a very rapid data transfer rate to its host computer over PCI-express. This Plane Wave issue will describe the Vantage receive path architecture and the programmable signal conditioning available to its users, and how it is designed to maximize data quality while minimizing the digital data rate. T
...Read More.
Next 10 >>>
Displaying 171 through 180 of 200

More Newss: 1 | 2 | 3 | 4 | 5 | 6 | 7 | 8 | 9 | 10 | 11 | 12 | 13 | 14 | 15 | 16 | 17 | 18 | 19 | 20