NDT News

Computational Imaging: Methods, Benefits, and Enabling Technologies
Posted:

2018-5-22
Vision Systems recently had a Q&A with Marc Landman, Vice President, CCS America in which computational imaging technologies, benefits, products, and applications within machine vision are discussed. Click the link above for the full article. You recently released the LSS-2404 lighting controller for computational imaging. What led to this product being developed, and why? Precision illumination is always critical t
...Read More.
New Patent for Positive Material Identification Process
Posted:

2018-5-22
Global pipeline solutions provider T.D. Williamson (TDW) received a patent for its Positive Material Identification (PMI) process from the U.S. Patent Office. The PMI process, patent number US 9,880,056, uses a variety of non-destructive tools and techniques to generate traceable, verifiable and complete pipe records for in-situ pipe material verification, providing trusted results along with considerable cost, time and efficiency benefits. TDW began developing the PMI process in 2011, soon after th
...Read More.
CFM56-7B Engine Fan Blade Inspection - GE Approved Glycerol Supplier
Posted:

2018-5-22
Echo Ultrasonics is approved by GE as a supplier of Glycerol batch # 205 for the inspection of CFM56-7B engine fan blades in accordance with SB 72-1033. Echo's GE approved Glycerol Echo Lot 205 is available in 16-oz / 500 ml bottles for overnight delivery worldwide. Contact: Echo Direct 24/7 at 360-671-9121 or sales@echoultrasonics.com. Part number GLY-16, batch # 205. According to the NTSB May 3rd investigative update, "On April 20, 2018, CFM International issued Service Bulletin 72-1033 applicabl
...Read More.
FlawTech, Inc. has appointed new VP
Posted:

2018-5-18
FlawTech, the world leader in flaw specimen manufacturing technology based in Concord, North Carolina, providing flawed specimens to the global NDT industry, is pleased to announce the appointment of Ricky L. Morgan as their new Vice President. Ricky is a US Army Veteran and a College of Oceaneering Graduate with over 30 years of experience in providing NDT Inspections to the Amusement Park, Construction, Infrastructure, Marine, Petro-chemical and Power Industries. He retains ASNT NDT Level III Certifica
...Read More.
The Importance of Surface Finish when Making NDT Reference Standards and Test Blocks
Posted:

2018-5-17
Surface finish describes the roughness or irregularity of a surface using a measurement system to quantify the results. This system covers a wide range from extremely rough-textured surfaces all the way to those that are highly polished, mirror-like surfaces. The predominant parameter is Roughness Average, denoted by "Ra," which is the arithmetic mean deviation of a profile. The higher the number, the rougher the finish. Roughly milled surfaces will be in the 250 to 500 Ra µin (6.3 to 12.5 µm) range. S
...Read More.
Eddyfi Technologies Launches the First Standard Pulsed Eddy Current Array Solution
Posted:

2018-5-17
The groundbreaking pulsed eddy current array (PECA) technology makes corrosion under insulation (CUI) and corrosion under fireproofing (CUF) inspections as much as 10 times faster than with single-element PEC probes. Québec, Canada, May 17, 2018 — Eddyfi Technologies is proud to be the first to globally market a standard PECA probe dedicated to improving the productivity of corrosion under insulation (CUI) and corrosion under fireproofing (CUF) inspections. As of today, new Lyft® systems will drive array
...Read More.
AATA to Host First Ever All Women 10-week NDT Training Course
Posted:

2018-5-16
In keeping with their continued efforts to promote diversity and offer opportunities to traditionally underrepresented groups in STEM, the American Advanced Technical Academy (AATA) is presenting the first ever all-women NDT training course this July for those wishing to enter the NDT profession. The 10-week course is free for qualifying students and includes classroom and hands-on instruction in all the major NDT techniques. We are thrilled that twelve women have already signed up to attend. However, we ne
...Read More.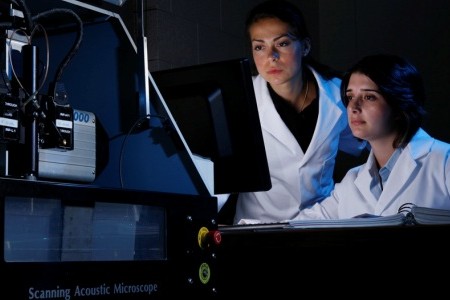 IDIR Funds $5.5 Million for Coatings and Testing
Posted:

2018-5-16
Roman Maev, Director General of UWindsor's Institute for Diagnostic Imaging Research (IDIR), and his research team were joined today by industry partners to announce research funding of $5,488,206 through the Natural Sciences and Engineering Research Council of Canada's (NSERC) Collaborative Research and Development (CRD) program. The IDIR's project, Novel Quantitive Nondestructive Quality Evaluation of Advance Joining and Consolidation Manufacturing Processes, will develop and test resilient coatings an
...Read More.
Utah Air National Guard Veteran Honored as SLCC Graduate of Excellence
Posted:

2018-5-16
"Off and on" for three years, Aaron Christopher Hornok lived on the streets of Salt Lake City. At times he lived out of his car. Other times he stayed with friends, at a shelter or he camped near streams so he could fish for food. He watched fellow homeless veterans die on the streets "and I was the only one with them." "The streets alone can kill you. It's a never-ending pit," Hornok recently wrote in an essay. Not only was he watching lives literally disappear before his eyes, the limited savi
...Read More.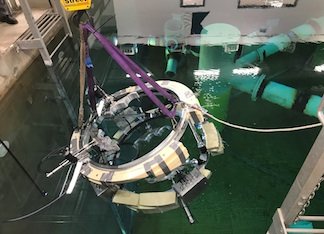 Climbing Robot for Mooring Chain Inspection Passes Field Trials
Posted:

2018-5-16
A robot designed to hook onto, and scale up and down, large mooring chains, both at sub-sea level and in the air – with a non-destructive testing (NDT) ultrasonic imaging system on board that scans for critical defects – has recently undergone successful field trials. The new climbing robot, named RIMCAW (Robotic Inspection of Mooring Chains in Air and Water), is the result of a yearlong fast-track project that secured funding from Innovate UK, the government agency behind finding and driving the innovat
...Read More.
Next 10 >>>
Displaying 91 through 100 of 200

More Newss: 1 | 2 | 3 | 4 | 5 | 6 | 7 | 8 | 9 | 10 | 11 | 12 | 13 | 14 | 15 | 16 | 17 | 18 | 19 | 20