Inspecting Stainless Steel Pipes for Corrosion without X-rays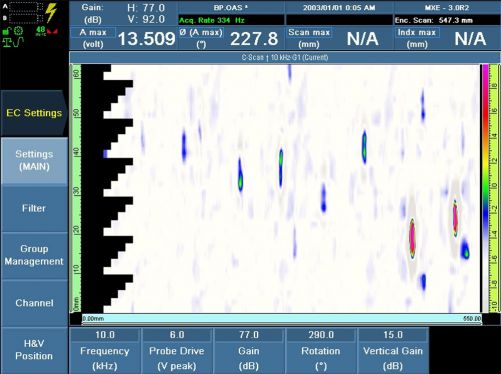 The stainless steel pipes commonly used on offshore platforms are susceptible to corrosion and must be regularly inspected. For decades, radiography was the primary method used to detect corrosion in these pipes, but as regulations governing the use of X-rays continue to tighten, radiographic testing (RT) is no longer permitted in some countries.

Eddy current is an excellent alternative to detect and evaluate corrosion pitting depth in the 300 series stainless steel commonly used on offshore platforms.

Eddy current array (ECA) is much faster than radiography. Rather than having to secure the inspection area for a period of time and limit employee access, ECA enables users to simply scan the component they're inspecting, even if it's painted. There are no chemicals involved. And since ECA doesn't utilize radiation, there are no restrictions about people working nearby while the inspection is taking place.

ECA provides results nearly instantly with intuitive, easy-to-understand imaging. Not only can inspectors use ECA to spot corrosion in the stainless steel pipes, they can also evaluate the depth of the defects for more robust results. The results are traceable and are easily saved and recalled later for post-process analysis and comprehensive reporting.

Using ECA technology for corrosion detection keeps the surface preparation to a minimum. To evaluate the depth of corrosion, we developed a depth estimation tool using the vertical amplitude and the phase angle.

Conclusion
Using ECA technology for corrosion detection and depth sizing is a quick and cost-effective solution to inspect pipes.

The inspector only needs to travel to the pipe once and then make four passes with the instrument to scan each pipe section. No paint stripping, no harsh chemicals, and no radiation mean the job gets done quickly while intuitive C-scan images with depth estimation provide robust data that are easily archived or put into reports.