TSC & Goshawk Launch Proof of Concept for Drone Deployed ET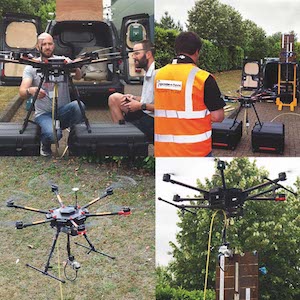 Following initial meetings at Subsea Expo 2017 TSC Inspections and Goshawk Technologies finally met to put drone technology to the test, with the aim to successfully prove the concept of deploying ACFM® technology by specialist UAS for aerial inspection.

Using weld inspection plates mounted at the height of 3-4 metres, the Goshawk team demonstrated with skill how they were able to fly their DJI Matrice 600 "Betty", a 6 rotor heavy lift drone fitted with a custom built probe holder, to inspect the test plates with ease, delivering instant results. The ACFM inspection data captured was of excellent quality and easily repeatable. There were no technical issues during the test flights and the successful results proved the concept and potential for this deployment method to work alongside other traditional inspection methods, such as rope access inspections, and other NDT techniques.

The Goshawk team, based in Aberdeen, are unmanned aircraft specialists providing highly customisable solutions across a wide variety of industries ranging from oil and gas, renewable energy, civil infrastructure management, aerial mapping and surveying. Being able to reliably deploy inspection technologies with UAVs, with results, enhances personnel safety as this method is an ideal for operation in harsh environments and in difficult to access or hazardous zones.

Drue Bremner, who focuses on UAV design and technology integration at Goshawk Technology, strongly believes in the advantages of developing drone technology and NDT inspection applications, "I saw huge benefits in combining hand held technology I'd used for years with drones, saw they could fit in spaces and places many people had never been on a rig, enhancing opportunities to improve safety and increase efficiency. "

Director of Goshawk Technologies, Jason Bird followed up by saying "We are ecstatic that we got the proof of concept, working with ACFM, and that the UAS capability was demonstrated to the full. This paves the way for the further design development of our aircraft to carry the payload required, now the hard work begins!"

The TSC teams are now equally excited about the potential of ACFM inspection working in partnership with drone technology, Dave Parramore, Engineering Solutions Director of TSC, states "TSC spent an excellent morning with the team from Goshawk Technology & Survey Ltd, testing and delivering a world first and very successful deployment of ACFM by UAS. The tests were performed without problems, even when different surprise test samples were thrown into the mix; initial on-site reports showed good signal to noise ratio obtained during this proof of concept test. Working with the expert team at Goshawk there is no doubt that drone technology is an ideal partner for ACFM deployment ...watch this space!"

For further information regarding the above get in touch with TSC Inspection Systems via ccuciureanu@eddyfi.com or Goshawk Technologies jason.bird@goshawk-uas.co.uk.