New Portable Pipe Inspection Camera TRITON M7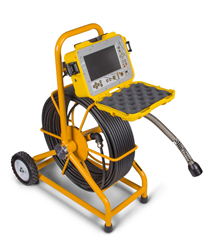 The new portable and highly customizable pipe camera TRITON M7 presented by Fiberscope.net consists of three principal parts - a camera head, a push rod on a reel, and a DVR control box. The camera head comes in four sizes (1.23", 1.36", 1.4", and 1.68") and two configurations, either straight view or self-levelling.

The smallest size camera head is available in both configurations, while the 1.36'' one features straight view only, and the two larger sizes are self-levelling only. The waterproof (IP67) camera heads are equipped with a ¼ color CCD chip, a built-in 512Hz sonde and high intensity adjustable LEDs. Poly blend extremely durable push rods are housed on a powder coated steel tube frame. The push rod diameter ranges from ⅜'' to ½'' depending on the general camera configuration.

The DVR of the unit is housed within a box made of machined aluminium. It is equipped with a 7.4'' color monitor with a protective acrylic cover. The control box boasts a wide array of functions, such as an on-screen text generator and a footage counter. There is no limit to the volume of photo or video files that can be recorded by the unit, since they are stored via USB interface directly on a removable memory stick or a computer hard drive.

The TRITON M7 pipe inspection camera can be ordered with an optional 512Hz sonde locator working in conjunction with a built-in beacon of the same frequency. Another option is an innovative Wifi module, which allows real time easy sharing of data between the inspection tool and a smartphone or a tablet via a specially designed application. Depending on the configuration, this professional yet affordable unit can be used on sewer lines, drains, ducts, or pools.