NDE Researchers Win Affiliate Societies Council Awards
Source:
Air Force Research Laboratory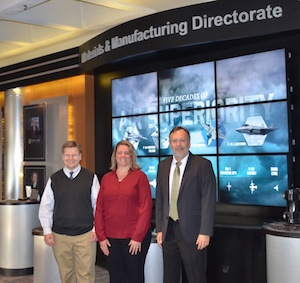 WRIGHT-PATTERSON AIR FORCE BASE, Ohio – Three researchers from AFRL's Materials and Manufacturing Directorate were recently named recipients of the 2017 ASC Outstanding Engineers and Scientists Award.

Dr. Eric Lindgren, Dr. Joy Haley and Mr. Doug Carter will be recognized at an upcoming ASC awards banquet later this month.

The Outstanding Engineers and Scientists Award recognizes individuals with superior accomplishments in research, education, technical leadership, and in specific technical fields and disciplines.

The council educates and offers professional development to youth in science, technology, engineering and math related careers. Promoting public awareness of STEM accomplishments and educational opportunities is a high priority for ASC.

Lindgren is a Principal Research Materials Engineer. He is a recognized expert in nondestructive methods for materials property determination and application of nondestructive evaluation methods for aircraft structures.

He received the award in the Special Recognition category for Nondestructive Evaluation. The focus of NDE is to locate damage, such as cracks in material, so that engineering and maintenance professionals can keep aircraft flying safely.

"I am honored and humbled by my selection for this award from the Affiliate Societies Council," said Lindgren. "This award reflects the excellence of all of the people with whom I have worked and I appreciate their contributions to make this possible."

Haley is currently the acting Research Leader of the Nonlinear Electromagnetic Materials and Processes Team. She directs research on nonlinear optical materials and is a recognized expert on organic nonlinear optical materials, understanding detailed structure property relationships over several classes of dyes.

She received the award in the category of Research for her studies in nonlinear optical materials for Directed Energy Air Force Applications.

"I am very excited to win this award as it has been a long standing award in the Dayton region," said Haley. "I remember attending the banquet in my early years here at WPAFB thinking how awesome it would be to win this award one day. I am honored to now be receiving the ASC award as a mid-level chemist. I am thankful for my colleagues that have contributed greatly to this body of work leading to the award."

Carter is the Principal Materials Engineer and Lead of the Materials Affordability Team. He leads a Materials Affordability Integrated Product Team for the development of cross-cutting sustainment and manufacturing technologies within the Materials and Manufacturing Directorate. Carter is the roadmap manager of Materials Affordability technologies across the AFRL, where he is responsible for tracking, reporting, and coordinating all activities in this area.

He received this award based on his work to successfully develop and transition technologies to the warfighter to improve mission capability rates while lowering maintenance man-hour per flight-hour as well as reducing costs due to manufacturing.

"It is an honor to receive the Outstanding Engineers and Scientists Award from the Affiliate Societies Council," said Carter. "I would like to express my gratitude for being nominated by my management and to my co-workers for their contributions to my winning this award."

Since the awards' inception in 1971, the Materials and Manufacturing Directorate has produced 81 awardees.

Among those is George Schmitt, who received the award in 1975. Little did he know how many would follow in his footsteps.

"The directorate is particularly honored to have had so many of its professional scientists and engineers recognized for their achievements by this award which crosses many disciplines including 50 professional societies with over 12,000 members," said Schmitt. Past awardees have always considered it a major honor."

Nominations for the award are accepted from Miami Valley companies, educational institutions, government organizations, professional societies and individuals. Selections are made by the ASC awards committee in cooperation with the member societies.

The awards will be presented at the 58th Annual Outstanding Engineers and Scientists award banquet in October, at the University of Dayton. Awardees will receive a memorial plaque and a personalized proclamation from the Ohio Senate.