Exhibition at Iran Wire 2017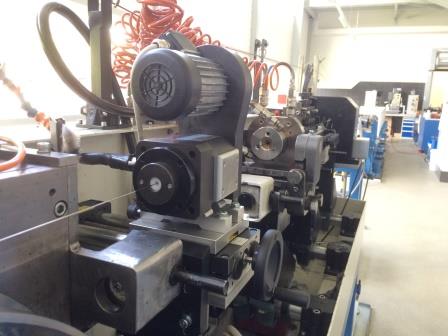 Quality inspection on wire lines

Contrôle Mesure Systèmes will exhibit at Iran Wire 2017 in Tehran, from 6 to 9 December on Stand A6B2. Specialist for nearly 30 years in nondestructive testing methods, we will take this opportunity to present our large range of NDT equipments, especially for wire inspection, on or off line, in ferrous or nonferrous metal.

Illustrations below show 2 examples of wire inspection installed:

- eddy current rotating head, RotoETscan HV, suitable for line drawing inspection for a diameter range of 0,8 to 10 mm. : This system, easy to install on the production line, integrates a turntable (cassette) adapted to the product diameter. Eddy current probes (2 or 4) installed inside the cassette, rotate at high speed (18000RPM) around the wire, while the product translate into the rotating head. The nozzles, inside the system, ensure proper centering of the wire during inspection. Connected to our EC instrument Zet@Master, it detects longitudinal defects >50μm on the product, but can also be combined with other CMS equipments such as magnetizing or demagnetizing units for a complete product inspection.


- eddy current system for aluminium wire inspection allowing detection of defects such as cracks, holes…. at high speed (1500-2000 m/ min for example depending of the diameter range to inspect). The wire is guided and passes through an eddy current system composed by a support coil mounted in a support table with guide rollers assuring a good entrance of the product. A special encircling coil, located in the support, allows the detection of cracks at the surface of the product. Eddy current testing is performed by Zet@premium instrument dual channels. When a defect or an inclusion is detected, the system activates a line shutdown, marker, visual alarm, saw or some other outputs. An encoder installed on the line allows precise location of defects in a customized report.