Detecting Structural Issues In Bridges Before They Become Disasters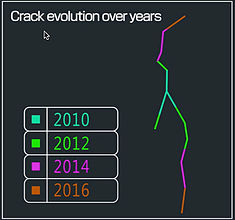 There are numerous situations that can lead to premature structural issues or the degradation of a bridge. For example, tiny stress cracks that aren't visible to the naked eye could form, and unless caught, could cause a disastrous collapse. Another example might be improperly mixed grout that is used inside the post tension tendons that help hold up a bridge. If the chloride content in the grout mixture is wrong, the high chloride content of the grout can cause the steel cables to corrode prematurely. Infrastructure Preservation Corporation has an answer to detection of similar catastrophic problems in the form of new geophysical non-destructive inspection technology, leveraged through robotic systems.

It can happen that such issues are caught, and disaster is averted. But often, due to traditional inspection methods, they are missed and millions of drivers are put in danger. In fact, out of approximately 612,000 bridges in existence in the US, more than 55,000 of them need repair1--and Americans cross these endangered structures 185 million times a day.

"It's very fortunate when an inspection does catch bridge structural issues," said Doug Thaler, president of Infrastructure Preservation Corporation (IPC). "Traditional inspection methods, virtually unchanged for the past 50 years, often do not detect minute fractures and structural faults, especially ones inside of the concrete—which fortunately can now be detected by new technology."

IPC's new technology makes it possible to save countless lives and billions in repairs by making structural faults known before they create catastrophic problems.2 Robotic systems utilizing geophysical non-destructive technology (NDT) protocols can x-ray concrete and other infrastructures, making it possible to identify early-stage deterioration and allow recommendation of repairs before deterioration spreads and compromises a structure's ability to carry its design loads. Proper diagnosis allows planning and repair of early-stage deterioration, which, in addition to providing much-needed safety and security, is financially preferable in that it prolongs infrastructure service life expectancy.

One company making use of IPC technology is DYWIDAG-Systems International USA (DSI). DSI is a global market leader in development, production and supply of post-tensioning, stay cable and reinforcing systems for the construction industry. DSI utilizes IPC's proprietary technology in the nondestructive inspection of post-tensioning cables and stay cable systems.

Bridge inspections must be conducted every two years. Current inspection methods, far outdated and manual in nature, often deliver subjective results. IPC's robotic inspection services provide quantitative data that allow departments of transportation to better allocate existing assets within their current maintenance budgets.

About Infrastructure Preservation Corporation:

An infrastructure crisis of herculean proportions now exists within the U.S. At every level, the U.S. government has been struggling with how to repair, replace and maintain the nation's aging bridges, roads, water management systems and more. Infrastructure failures could have significant impacts on daily life if appropriate actions are not taken. Metropolitan, state and federal departments of transportation (DOTs) do not have the funds to replace aging infrastructures, and are looking for ways to prolong service life.

Infrastructure Preservation Corporation (IPC) is a robotics manufacturer and professional services engineering company that delivers infrastructure inspection services using reliable and accurate imaging based on geophysical non-destructive testing (NDT) and robotic technologies. Based in Clearwater, Florida, IPC has developed its technologies and services to detect early-stage infrastructure degradation and deterioration in concrete and steel structures. From bridges to utility or communication towers and other public/private infrastructures, IPC technologies deliver "next generation" alternatives to disrupt markets that still use manual inspection methods. For more information, visit https://www.infrastructurepc.com.