Buehler Brings Companies Quality Metallurgical Supplies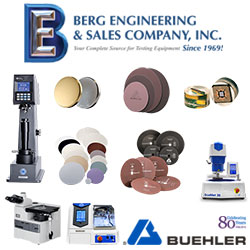 Buehler has partnered with Berg Engineering to offer reliable testing equipment and top of the line metallographic consumables. Buehler has been a trusted name for over 80 years and is one of the top manufacturers of metallurgical supplies. Together, we offer hardness testing consumables for hardness testing applications in sectioning, mounting, grinding and polishing. As one of the leading names in metallurgical analysis, Buehler products stand up to the heavy, everyday usage within your laboratory.

Serving the world of metallography since 1969, Berg Engineering provides equipment and testing supplies that meet all industry regulations and specifications. Avoid the industry markup that competitors tack onto their products and get both reliable and affordable testing consumables. At Berg Engineering, we stock only the finest names in hardness testing and metallography.

Not only are our sales engineers highly skilled, they always give you their complete undivided attention to help you with:

Selecting both metallurgical testing equipment and hardness testing supplies
Identifying products that can improve your processes
Ensuring your quality controls are efficient
Keeping on budget
Increasing your overall productivity and return on investment (ROI)

We provide the full line of Buehler consumables and metallographic equipment, in addition to selling and servicing Buehler's compline line of Wilson hardness testing equipment. Berg Engineering's service area includes customers in Arizona, Colorado, Idaho, Illinois, Indiana, Iowa, Kansas, Kentucky, Michigan, Minnesota, Missouri, Montana, Nebraska, North Dakota, South Dakota, Utah, Wisconsin, Wyoming, and Puerto Rico.

If you are interested in learning more about Berg Engineering and about the Buehler products we carry, contact our sales engineers who are well versed in hardness and metallographic applications. They ensure that you receive the right consumables and equipment you need to keep your operations running smoothly.

Contact us at 847-577-3980, email us at info@bergeng.com or visit http://www.bergeng.com to begin your journey to efficiency.

About Berg Engineering & Sales Company, Inc.

Berg Engineering is fully committed to providing customers with not only superior metallurgical analysis equipment but also improving your overall productivity and operations. We have seasoned professionals to help with your non-destructive testing (NDT equipment), material testing, metallography and electrical testing needs. We also have a fully functional service center and will provide ISO/IEC 17025 calibrations to ensure your testing facility and metallographic machinery function properly.