Aamir Khalid Named Chief Executive of TWI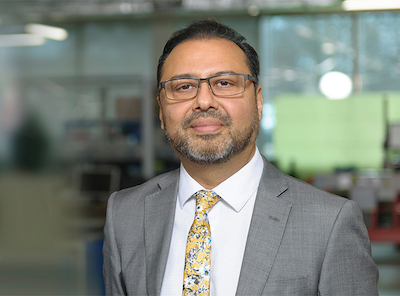 After over 20 years with TWI – originally The Welding Institute – Prof Khalid will take over from the incumbent Christoph Wiesner at the beginning of February.

The institute is home to over 40 Brunel staff and PhD students, who are working as part of the National Structural Integrity Research Centre (NSIRC), a state-of-the-art postgraduate research facility established by TWI and Brunel in 2012.

Prof Khalid said: "It is a privilege to be selected and to have the opportunity to build on the company's respected worldwide reputation. Our 70-year history as a centre for welding and joining excellence and innovation, our strong links with industry and the commitment of our people are what makes TWI an outstanding organisation to work for.

"I will be proud to continue the work of my predecessors to deliver the best possible benefits for our members and customers."

Prior to joining TWI, Prof Khalid obtained an applied physics degree from University College London, a Masters and PhD in non-destructive testing (NDT) from Brunel and Cranfield Universities and later an MBA from London South Bank University. He spent several years in industry before joining TWI as NDT section manager, specialising in applying robotics to non-destructive testing. From here, he progressed to lead the company's non-destructive testing technology group in 2004 and became TWI Technology Director in 2010.

His recent focus has been on creating new opportunities for TWI Industrial Members through national and international collaborations, and in developing key areas of TWI's technology and training businesses in the UK and overseas. He also has responsibility for TWI's public and collaborative funding office and in the past five years has overseen the winning of over £500m of research and development funding for TWI, its members and its partner universities.

Outside TWI, Prof Khalid is currently Chair of the Cambridgeshire and Peterborough Combined Authority Business Board and has been a former Director of the Manufacturing Technology Centre (part of the government's High Value Manufacturing Catapult).