Vogt Introduces PROlineTOP Plug & Play Ultrasonic Inspection Device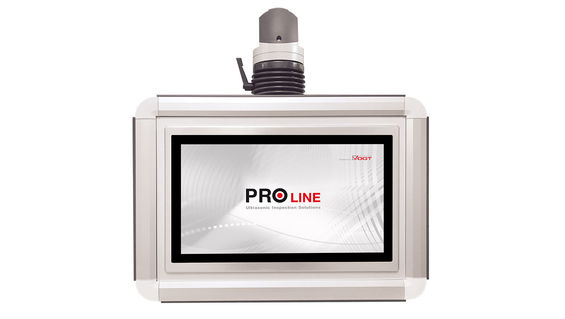 PROlineTOP is an All-In-One inspection device for the manual, mechanized and automated non-destructive material testing in laboratory and production. As Plug & Play solution it units all control and operation elements in a small housing and therefore replaces the typical control cabinet.

The compact ultrasonic device is ideally suited for the inspection of weld seams for cracks and volume defects, solder and coating joints for adhesion quality, wall thicknesses, shafts, rods, pipes and sheets as well as synthetic materials (e.g. CFK parts).

PROlineTOP offers great advantages for the production and the integration into production lines. Due to its extremely space-saving design, it units all needed electronic components in smallest space and replaces a big control cabinet.

Stored in a standard housing, the complete ultrasonic control- and operation unit can be mounted to a supporting arm in close proximity to the inspection mechanics.

PROlineTOP is based on the PROlineUSB hardware and works with the approved PROlinePLUS inspection and evaluation software. Itís not only compatible to PROline inspection systems, itís also ideally suited for the modernization and adaption of existing inspection systems of other manufacturers. Thanks to this concept, the device supports an easy handling of new or modified inspection tasks with existing inspection systems in an economic way.

Suited for Industry 4.0., PROlineTOP is able to communicate with a superior customer system via e.g. ProfiNET or other SPS interfaces. It supports the following ultrasonic operation modes: pulse-echo, sender-receiver and sound transmission. The automatic evaluation, creation of inspection reports and report archiving saves time and creates inspection reliability. Thus even users without expert knowledge can work with the mechanized solution.

In laboratory PROlineTOP is used as fully functional Plug & Play ultrasonic device. The big 22 inch touch display facilitate the manual valuation of A-scans. Available as 2- or 8-channel version, PROlineTOP offers numerous interfaces for a fast communication. This includes e.g. signal outputs for threshold crossing, start and stop signal inputs for ultrasonic measurements as well as rotary-pulse-generator connections to know the exact position of the recorded ultrasonic data.