Chromasens Linescan Camera Allows Long Distance Wired Video Transmission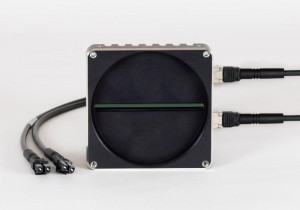 The new allPIXA evo cameras from Chromasens are designed for high-speed line-scan image processing. The cameras are the industry's first to feature a GigE Vision 2.0 compliant, single/dual 10 GigE Over Fiber interface combined with a quad linear CMOS color sensor.

While fiber is relatively new to machine vision, it has been relied upon by the IT and telecommunications industries for decades. Not only does fiber offer advances in robustness, flexibility, convenience and affordability, its bandwidth far exceeds copper Ethernet cables. Furthermore, unlike copper cables, fiber cables are insensitive against interferences (EMC), making them ideal for industrial machine vision environments.

Long-distance transmission

Depending on the type of SFP+ transceivers and the fiber cable, data captured by the allPIXA evo can travel on multimode fibers up to 300 meters or 3 times the cable length of the current GigE Vision standard, and on single mode fibers up to 10 kilometers (6.2 miles) without the need for repeaters or optical extensions. However, the new cameras do not sacrifice speed for longer cable lengths. The Chromasens allPIXA evo achieves line frequency speeds at full resolution of up to 48 kHz for the 10K pixel model and up to 33 kHz for the 15K pixel version. In ROI mode, transfer is even faster with the cameras yielding speeds of up to 146 kHz.

Chromasens allPIXA evo cameras are loaded with an advanced feature set supporting the most challenging color and mono line-scan applications, and are especially effective in web and 100% print inspections. Chromasens allPIXA evo cameras merge advancements in line and frame trigger options including variable encoder input, and keystone correction and color conversion matrices. An outstanding signal-to-noise ratio assures unparalleled quality in color imaging where dynamic range is critical to success.

The fiber interface greatly expands the horizons of vision systems that have traditionally been limited to cable lengths with a maximum of a few feet. Looking beyond industrial inspection, the extended cable lengths makes allPIXA evo cameras suited for long-distance applications in the surveillance, military and transportation sectors.

Three models available

In addition to 10K (10240 x 4 lines pixels) and 15K (15360 pixels x 4 lines) 12-bit True RGB and mono versions, Chromasens offers an allPIXA evo TDI mono camera that delivers excellent responsivity in reduced lighting levels for wafer, PCB, and LCD panel inspection, among others, to help increase manufacturing yields.

Thanks to the GigE interface, Chromasens allPIXA evo cameras will seamlessly connect to the large ecosystem of GigE Vision complaint network switches and interface cards, while eliminating the need for frame grabbers and expensive Camera Link cables. The uniform industry-wide GigE Vision standard also makes it cost-effective to replace older GigE Vision-compatible cameras with a new allPIXA evo without requiring changes to the software. Because fast integration is essential to reduced production downtime the allPIXA eco comes with an intuitive graphical tool and an SDK for control and image capture in Microsoft Windows and Linux platforms.