NSI and Synopsys Announce New UK Workshop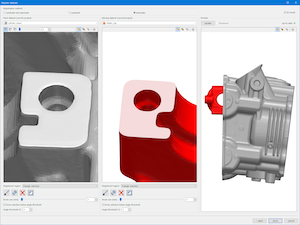 North Star Imaging (NSI) and Synopsys are running a workshop in High Wycombe, UK, on June 5th. The workshop will cover methods for going from 3D computed tomography images to simulation-ready models using Simpleware software. This collaboration represents a valuable chance to see some of the latest workshops for simulation and NDT.

More information is available here: https://4nsi.com/events/nsi-and-synopsys-technical-workshop

Agenda

13:30 - 13:40
Registration & Refreshments
13:40 - 14:10
Introduction to North Star Imaging's Inspection Services

Real-time X-ray inspection and 3D CT scanning services
Our 3D CT X-Ray Inspection Process
Latest techniques for improved resolution and accuracy
Industry-first innovations for increased scanning envelope and resolution
14:10 - 14:40
Introduction to Image-based Model Generation with Simpleware

Simpleware solutions to visualize and process your 3D image data
Import and integrate CAD models within your image data
Learn how to turn images and parts into high quality multi-part models
Export models models directly to CAD, FE/CFD solvers and 3D printing
14:40 - 15:00
Demo of the Simpleware Software Suite

Experience first-hand how quick and easy it is to process your 3D CT image data
See an example workflow including different segmentation tools and filters
15:00 - 16:00
Hands-on Tutorial* and Open Discussion

Try the full Simpleware software suite
Follow a software tutorial covering your area of applications
Bring your own data to get personalized help with your workflow
Start you trial and work with our Simpleware Support team to develop your workflow
16:00 - 17:00
Tour of NSI and Instron

Location

North Star Imaging UK
Instron House, Cressex

Business Park
Coronation Road
High Wycombe, HP12 3SY
United Kingdom

Parking
Free parking is available on site

Presenters and Instructors


David Harman (PhD)

Business Development Manager
Simpleware Product Group at Synopsys

Guy Tolley

Business Development Manager
North Star Imaging UK

Sheng Yue

X-Ray DR & CT Application Expert
North Star Imaging UK

Further Details

The workshop is FREE but pre-registration is required as seats are limited. To register for this event, please complete the registration form on the NSI website.
To participate in the hands-on session, you will need to bring a 64-bit Windows laptop with the Simpleware software installed. Installation and license details will be sent to participants one week before the workshop.

Discounted hotel rates are available at the Holiday Inn High Wycombe. For more information or further inquiries about this workshop, please email us.