Martin Sutton Joins Baugh & Weedon and ETher NDE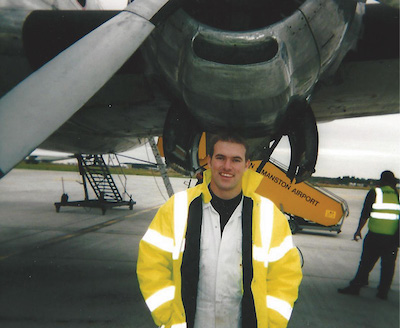 Baugh & Weedon and ETher NDE are delighted to be able to welcome Martin Sutton to the Sales Team as Area Sales Manager and European Sales Manager respectively.

Martin has a rich and long history within the NDT industry that spans over twenty years. Martin started his NDT career with a work experience placement in an Aviation heavy maintenance facility (looking after ageing wide body freighters) at Modern Jet Support Centre on Manston Airfield in Kent. While here, Martin showed a flair and passion for the industry and they offered him an NDT apprenticeship in 1993, which he happily accepted.

After three years of training, Martin enjoyed a brief career as a PC in the police force (with Kent Police) before rejoining Jet Support to continue with his NDT development and PCN accreditation. After spending the next 6 years working his way through his MPI, Eddy Current and Ultrasonic PCN level 2 approvals he went on to manage the NDT department.

Modern Jet Support closed in 2004 and Martin joined Material Measurements Trutest in Surrey as a contractor and undertook various contract NDT on-site assignments throughout the UK and Europe including EADS in Bordeaux and Lufthansa Technik in Ireland. During this period he was offered the role of Line Engineer working on the Fokker 100 short-haul passenger aircraft. He was (part of the engineering team responsible) for component changes, inbound defect rectification and airworthiness. During this time Martin also undertook NDT contracts and rail engineering roles with South-eastern Trains, broadening his NDT experience and application expertise.

In 2005 Martin joined Sonatest with a great wealth of practical NDT skills and knowledge, but no previous sales experience. With support from Kelvin Cook and Carol Stevenson, Martin quickly began growing his sales revenues year-on-year, successfully winning new business and customers, many of who became good friends. During this time, Mike Reilly was the CEO of Sonatest and regarded Martin as a great asset to the sales team.

Now CEO of Baugh & Weedon and Ether NDE, Mike is delighted that the planets have aligned at the right moment and he was able to attract Martin to the companies. He says of the successful recruitment, "Having worked successfully with Martin for a few years at Sonatest, I am delighted that he has joined the expanding Baugh & Weedon and ETher NDE team. Martin is bringing a real depth of Applications and Product Knowledge, plus a great deal of enthusiasm and a real passion for keeping Customers satisfied. Combined with the high-quality Baugh & Weedon and Ether Products and our existing focus on customer support, I am sure it will be a winning combination".