Ultrasonic Plotting of ASTM FBH Block Sets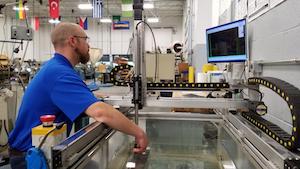 A critical part of any ASTM E428 or E127 Flat-bottom Hole (FBH) Block Set is the plot / graph of the ultrasonic responses from the FBHs. The graph shows the relationship between metal travel distance (MTD) and signal amplitude (for distance amplitude sets,) or hole diameter and signal amplitude (for area amplitude sets.) Any good set of blocks should show a linear, "non-erratic" relationship from block to block. This ensures they will perform properly when used to set inspection sensitivity.

For decades, we at PH Tool had been using TAC Technical Instrument Corp (TacTic) for the ultrasonic plotting of our blocks. They have always done a great job for us, but recent changes to their company mean that they are no longer offering ultrasonic plotting and examination of ASTM blocks. TacTic was recently acquired by another testing lab, and the new owners have decided to stop offering this niche service.

Because this ultrasonic plotting capability is so critical to our product line and the services we offer, PH Tool decided in 2018 to bring this capability into our own facility. We have invested in state-of-the-art immersion ultrasonic testing equipment, built custom fixturing for holding and articulating blocks, and procured transducers that meet the requirements of ASTM E127 and E428. Our ultrasonic technicians have received on-site training from TacTic experts and developed new procedures that closely follow those of TacTic and other testing labs, with some of our own fine tuning added in. We have also developed a modern, professional look for the ultrasonic testing reports generated by this process.

We use our equipment to evaluate our own production ASTM sets, as well as to recertify PH Tool sets at regular intervals (schedule determined by the customer.) We will even evaluate sets made by competitors to see if they perform properly. Our large immersion tank allows us to plot sets with very long MTDs, as well as special "integrated" blocks with many FBHs of various sizes and MTDs together on one block. The response from an individual ASTM Block can also be evaluated and compared to reference values as a recertification service in cases where a FBH with a metal plug makes mechanical inspection impractical.

We see this as an exciting new development that will improve our product line, as well as the customer experience overall. With the ultrasonic plotting capability now in-house, lead times have been dramatically reduced, and we are able to gain immediate feedback on how the flat bottom holes we manufacture perform under ultrasonic testing conditions - All without risk of damage during transit. As we carry on and improve upon TacTic's ultrasonic testing traditions, we are confident that you will see the same "standard of excellence" in our testing as you've come to know in the products we make.