YXLON receives the SMT China Vision Award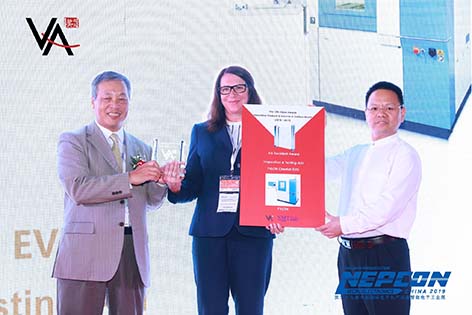 On the first day of the Nepcon show in Shanghai, YXLON International received the SMT China Vision Excellence Award 2019 for their x-ray systems Cheetah EVO. The festive award ceremony took place at the Shanghai World Expo Exhibition and Convention Center. Barbara Nichtern, Yxlon Vice President Global Sales & Marketing, was happy to attend the ceremony and proudly explained: "The Cheetah EVO family is Yxlon's answer to the specific inspection needs of our customers in the SMT, Semiconductor and laboratory applications worlds. Equipped with the ProLoop solution, the systems support modern smart factories and Industry 4.0. Beyond the detection of flaws, Cheetah EVO systems are the perfect tool for the improvement of production processes."

ProLoop is the intelligent manufacturing solution providing complete production information in real-time thus enabling the producers to improve both the quality of their products and their production processes for increased productivity. All data reports are stored and can easily be traced back, even remotely. Combined with traditional AOI and AXI inspection systems, ProLoop reduces industrial manufacturing costs, and increases efficiency and yield.

Founded in 2007, the SMT Vision award is the only acknowledging international prize-giving in the Chinese electronics manufacturing market which once a year honours outstanding innovations and inventions which enable China's electronics-assembly industry to build better, more reliable products.