New YXLON MU60 Equipped with Automatic Defect Recognition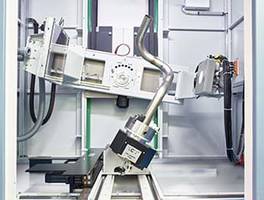 At the GIFA trade fair, which took place from June 25 to 29 in Düsseldorf/Germany, everything revolved around computed tomography (CT) for a wide variety of testing and inspection tasks in the foundry industry – from precise laboratory systems for research and development to quality control at the production line and inline solutions during production.

It starts with the high-resolution industrial CT system YXLON FF35 CT for small and medium-sized specimen. FF35 CT is designed for extremely accurate inspection results and metrological applications in the laboratory environment. At the GIFA fair, the latest version will be presented: improved detector with increased active area, new live filters, additional trajectories for scanning variety, and the intuitive software platform Geminy. Equipped with touchscreen operation using graphical icons, health monitor, status light and push messages, as well as predefined user levels and remote functions, the FF35 CT delivers the best inspection results for users with little experience and experts alike. Visitors are invited to bring their own test specimen of up to 53 cm (20.8") in diameter and 80 cm (31.5") tall so they can analyze them live using the system.

The YXLON MU60 X-ray and CT inspection system is designed for a wide range of applications, especially in the foundry sector of the automotive and aerospace industries. Compliant with current standards, such as DICONDE, ASTM, MAI, and Nadcap, and equipped with ADR (automatic defect recognition), it is the perfect at-line inspection system for large castings. Live demonstrations of 2D radioscopy and 3D computed tomography will already impress GIFA visitors due to the size of the system and the range of possible test objects.

Particular emphasis will be on the brand new CT Inline solution. CT Inline is the next step towards Industry 4.0. The use of complete data for each individual object in the production line forms the basis for reliable product quality and continuous process optimization. Yxlon offers its customers CT Inline solutions that meet their individual inspection requirements and keeps pace with every production cycle in today's foundries. Yxlon's CT Inline will take manufacturing processes to the next level with its world-class detector technology, advanced mechanics as well as Microvista's tried and tested inline analysis software. At the GIFA trade fair, the solution will be presented to the public for the first time.