Sensor Networks, Inc. Opens New Headquarters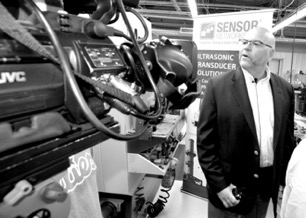 State College, PA - Sensor networks, Inc. (SNI), a leader in critical asset management applications, recently re-located to its new headquarters at 366 Walker Drive in State College, Pennsylvania in order to accommodate new equipment and increased staff.

A ribbon cutting ceremony, attended by local dignitaries and the media, was held on August 15, 2019 to celebrate the occasion.

"For SNI to grow, we needed to increase production capacity, which would require a larger building and adding a second shift," explained Bruce Pellegrino, Vice President of Marketing at Sensor Networks, Inc. (SNI). "To start that domino effect, we needed to acquire additional equipment."

By moving to their new headquarters, SNI will nearly double the square footage of their previous work space and will grow their team to 125 full-time engineers, machinists and support staff.

"Sensor Networks is excited to be settling into our new home at Washington Centre in State College," said Pellegrino. "our new, enhanced production capabilities will allow us to significantly expand our output of product as well as giving us access to an eager, local workforce."

SnIís customers are spread across a wide variety of industries and frequently have visitors to their headquarters to trouble-shoot issues with SnIís experts.

For additional information, please visit the companyís website at www.sensornetworksinc.com or find us on LinkedIn.