Newly Rebranded Spectis Robotics Seals Deals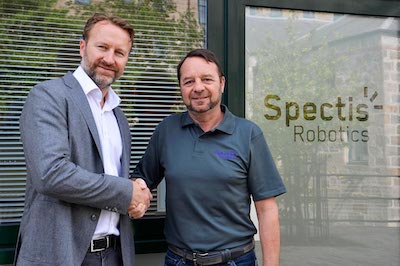 Spectis Robotics, a leading provider of remotely operated robotic crawlers and camera systems, has announced two international distribution agreements.

The new company – which re-branded from Inuktun Europe in June – has moved swiftly to agree a deal with Dekra Visatec GmbH, a German designer and manufacturer of high-quality visual inspection camera systems for specialist industrial markets.

It has also reached an agreement with SuperDroid Robots Inc. – an American firm whose range of standard and customised tactical robots is used for dangerous applications where it is impractical to have a human operator present.

Brian Storie, managing director at Spectis Robotics, said: "Having the strength and support of these two leading firms, particularly at the start of a new chapter for the business, gives us confidence and will provide a significant competitive edge to the benefit of our clients.

"We are optimistic that both of these formal relationships will create opportunities for Spectis Robotics to become a go-to company for specialist inspection systems and will open doors into new markets for us."