OSU Institute of Technology Opens Industrial & Aviation Technologies Training Center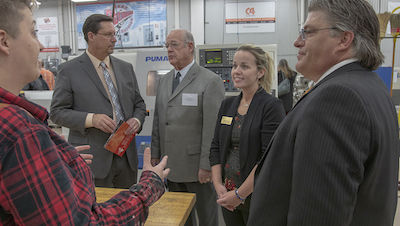 OSU Institute of Technology officially opened the Industrial & Aviation Technologies Training Center (IATTC) during a ribbon cutting ceremony and open house event on the Okmulgee campus Nov. 7 and 8.

The IATTC includes an advanced manufacturing lab with approximately $750,000 of existing equipment, a non-destructive testing lab, as well as a classroom and instructional space. The center serves aviation and defense industries throughout the state as well as industries in the surrounding five counties: Okmulgee, Hughes, McIntosh, Okfuskee and Seminole.

"OSU Institute of Technology is committed to the industry training needs of our state," said Dr. Bill R. Path, OSUIT president. "It is our mission to see Oklahomaís workforce thrive, and aerospace technologies are essential to the stateís economy."

Two critical issues facing rural Oklahoma are a lack of skilled workers and quality training programs available in manufacturing and aviation technologies in economically distressed regions; the result over time has been divestment by the private sector in these communities.

"This is a new area of growth potential for Oklahoma," said State Rep. Scott Fetgatter. "The skills gap in our aerospace industries must be addressed through advanced training programs like those offered by the IATTC at OSU Institute of Technology. This centerís opening is a win for the stateís economy."

Due to its centralized locality, Oklahoma has a strong aerospace hub and as a result, the aerospace industry has a significant impact on the state. According to the Oklahoma Department of Commerce, the industry brings in upwards of 44 billion dollars annually.

With strong projected industry growth, low career visibility and aging employees, the skills gap is increasing in these industries.

"As we work with industry throughout the state, the opening of the IATTC represents a major step in OSUITís efforts to alleviate that condition by addressing the skills gap in the incumbent workforce and creating a stream of skilled workers necessary to support growth of manufacturing in Oklahoma," said Charles Harrison, associate vice president of OSUIT Workforce & Economic Development.

The IATTC opening is made possible by an extension of a multiphase Department of Defense (DoD) grant that was originally awarded to OSUITís Division of Workforce & Economic Development in 2014. The $1.7 million grant extension is for two years.

The training center will focus on 11 technologies fundamental to DoD contractors and subcontractors, aeronautics manufacturers and general industry including nondestructive testing and quality.