Infrasense Surveys Interstate Bridge in Montana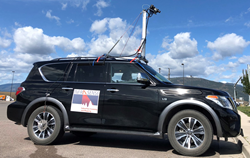 Infrasense recently completed various non-destructive tests on a 1000-ft long bridge carrying Interstate-90 near Alberton, Montana. One of the testing methods used was ground penetrating radar (GPR), which provides maps of rebar depth and rebar level deterioration. Another method, infrared thermography (IR), was used in conjunction with a high-resolution video feed to quantify and map subsurface delaminations, patching, and spalling.

The surveys were all performed from a single vehicle, implementing a set of 2 GHz horn antennas. The scan rate was regulated with a distance measurement instrument attached to a tire of the vehicle. The IR and HRV cameras, mounted on a frame on top of the vehicle, captured a series of images as the vehicle moved across the bridge deck.

These images are stitched together into plan-view for subsequent mapping of defects. The survey was completed in under 30 minutes and required no traffic control. Results were delivered to the client within approximately 2 weeks following the survey and will be used as part of a rehab design effort.

About Infrasense, Inc.

Since 1987, Infrasense, Inc. has applied advanced technologies to address the most difficult challenges in subsurface scanning. Infrasense's engineers nondestructively extract critical information from a diverse range of structures.

In addition to providing ongoing subsurface evaluation services to clients across the country, the firm has also conducted numerous research programs to advance the field of subsurface detection and nondestructive evaluation. To learn more about Infrasense and the services we provide, visit our website: http://www.infrasense.com.