Ionix Launch New HotSense Measurement Hub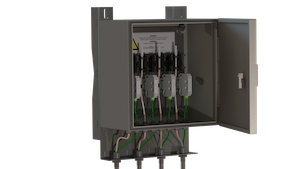 Ionix now offers low capital expenditure access to monitoring which can minimize operational risk and maximize productivity with enhanced asset intelligence.

Hotsense is a complete fixed-point ultrasonic thickness measurement solution for use with standard UT gauges and flaw detectors. This system offers the lowest cost entry point for intrinsically safe, non-invasive corrosion and erosion in-service monitoring and is deal for reducing capex across applications in refining, oil & gas, energy, nuclear and process sectors.

KEY FEATURES

Full fixed-point non-invasive corrosion and erosion monitoring solution for -55 to +550 °C (-67 to +1022 °F) applications

ATEX & IECEx Zone 0 ready to enable quick and safe measurements from sensors installed in the most hazardous and inaccessible environments

Flexibility enables seamless upgrade to full automated wireless system as system requirements expand

Houses up to 4 HotSense™ sensor connections to enable quick and easy measurements to be collected at an accessible location using standard NDT equipment and procedures

Fixed sensors provide increased provision, accuracy, repeatability and measurement frequency

Fit in-service, without shutdown or isolation

KEY BENEFITS

Low cost entry to in-service automated integrity monitoring using current NDT equipment and personnel

Maximising productivity and minimising down-time or outages

Increased accuracy and precision using installed transducers - up to 5x increase in precision compared to standard inspection methods.

Increased safety by avoiding inspector exposure direct to hostile environment with reduced inspection time at asset

Compatibility with standard equipment and procedures allows adoption with minimal switching costs

Deployable in wide-ranging applications: refining, oil & gas, energy, nuclear, aerospace and process sectors

ABOUT

The Ionix mission is to create value for our clients by facilitating process operations and measurement in extreme environments.
Ionix has created a range of proprietary high performance piezoelectric materials that can operate in high temperature environments, and that enable sensors, actuators and transducers which address applications and markets not accessible to existing piezoelectric devices.