ASNT Aerospace 2020 Goes Online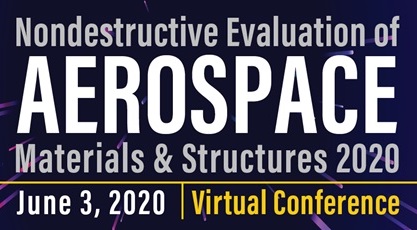 NDE of Aerospace is Now Virtual

In another ASNT first, Aerospace 2020 has been rescheduled as a completely virtual conference. We are excited to connect with attendees from around the globe in a one-day online event on 3 June 2020.

Attendees still receive recertification points as well as the same incredible content.

NDE of Aerospace is ASNT's foremost conference dedicated to the aerospace NDE / NDT / NDI industry and provides a forum for the exchange of theoretical, practical, and scientific information.

Worry-Free Registration

Sign up for this event with our Worry-Free Registration! Your registration to this event will cover your in-person attendance or your virtual attendance—and you can change your registration at no cost! Arrange to attend the event in person and change your registration any time before the event to stream it online, or plan to attend virtually and snag a last minute trip to see fellow NDT professionals in person. Amid changing travel restrictions, ASNT wants to ensure that our event attendees can get the latest content in the most accommodating way.

Sessions will be streamed live, in real-time, direct to your computer or mobile device. You'll have access to audio and video sessions, remote networking through chat rooms, and slides, just as if you were there at the conference in person!