Eddyfi Launches SENSU 2ACFM® Compliant Array Probe
Source:
Eddyfi Technologies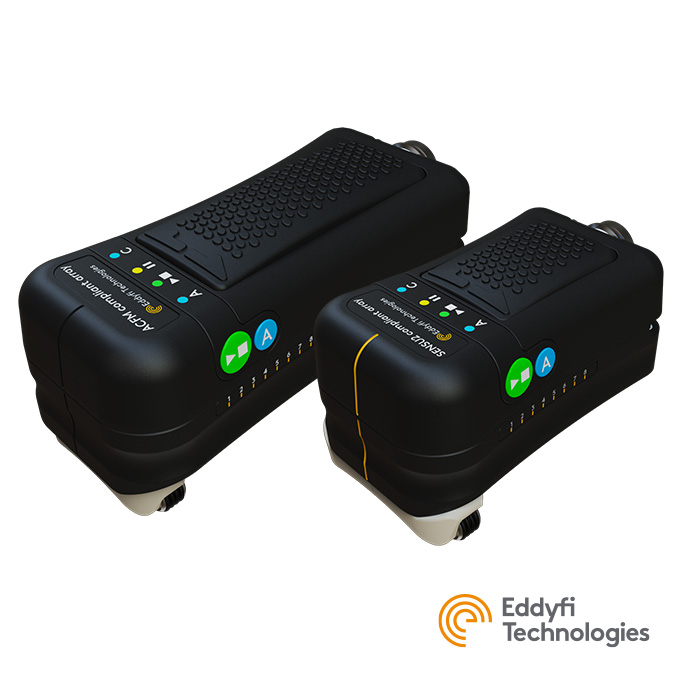 Quebec, QC, June 9, 2020 – As the world leader in advanced non-destructive testing solutions, Eddyfi Technologies is pleased to announce the launch of the Sensu 2 ACFM® Compliant Array Probe for crack detection and sizing in ferritic welds, from its TSC product line.

The new Sensu 2 compliant array is the first true ACFM, high-performance probe to unleash the processing power of the TSC Amigo™ 2 ACFM instrument. Increasing productivity by 20 times compared to current ACFM probes, the new solution features a fast scanning probe that can cover an area up to 90mm wide. It can detect and size cracks in all orientations in a single pass. This productivity increase is accomplished by utilizing twin-field technology, allowing for biaxial crack detection and sizing with up to 16 individually sprung ACFM sensors/fingers.

"We were attentive to what was going on out in the field following the successful launch of our powerful Amigo 2 instrument, about 18 months ago. Our customers needed a probe that could deliver all of the ACFM unique advantages in an easy to use and highly productive package. Weld integrity is at the heart of some of the most critical NDT applications, and we believe this new probe will prove to be a game-changer," says Charles Tremblay, Application Engineer - ACFM.

Designed for efficient, accurate, and comprehensive weld inspections, the ACFM array probe features rugged individual fingers with stainless steel tips, allowing it to fit the contour of the inspection surface and comfortably accommodate weld caps protruding up to 12mm high.

The Sensu 2 connector supports up to eight digital inputs for high-speed, large array applications. Together with Amigo 2, the Sensu 2 ACFM compliant array probe is an extremely reliable solution that can rapidly detect and size surface-breaking cracks oriented axially and transversally through paint and coatings in a single scan. The new probe can size cracks down to 20mm deep through up to 4mm of coating and also works through up to 10mm of coating with minimal loss in sensitivity.

Just like the original Amigo ACFM instrument, this new product is designed and built from an ACFM legacy and reputation for ruggedness, reliability, and ease of use. "The industry demands increased performance in speed, signal quality, and portability. It's time for an evolution. And today, the evolution lies in this new ACFM array probe. It's as simple as that" concludes Dr Michael Smith, Technology Director – ACFM.