Baugh and Weedon Delivers AMS2644 Approved PFinder 923 Penetrant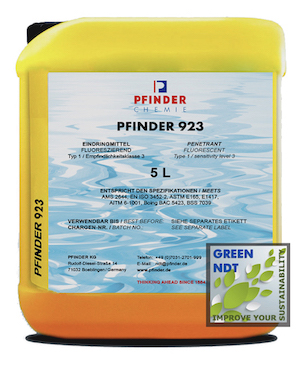 We are pleased to confirm that our partners at PFINDER NDT have now gained AMS 2644 approval for Pfinder 923 fluorescent water washable penetrant.

Pfinder 923 is now listed in the QPL-SAE-AMS-2644 and is being used especially for aviation components. As ever the GREEN NDT properties of PFINDER's products are multiple and the indications are bright and sharp with high contrast levels.

End users will greatly benefit from the low viscosity, ensuring economical material consumption, whilst enhancing their "Green NDT" credentials due to the biodegradability of the penetrant which allows wastewater to be discharged into the sewerage without any pre-treatment.

All products conform to the following specifications / are suitable for use according to: EN ISO 3452-2, ASME V Art.6, ASTM E165. Low content of sulfur and halogens according to EN ISO 3452-2.

For further information on Pfinder 923 or the Pfinder range please contact Pfinder's UK partner, Baugh & Weedon, via sales@bw-nde.com

About Baugh and Weedon Ltd.

Baugh & Weedon is a leading manufacturer of Magnetic Particle Inspection (MPI) Benches and Liquid Penetrant Inspection (LPI) Penetrant Lines. Baugh & Weedon can also provide MT accessories including UV Lamps, dual UV and white light Inspection Lamps (Lumazon) and our dual UV and White Light Meter (LumaCheck) as well as a full range of MPI and LPI chemicals from Pfinder Chemie. You name it, we have it for all your Magnetic Particle Inspection and Liquid Penetrant Inspection needs.

Baugh & Weedon also offer a wide range of Ultrasonic (UT) Thickness Gauges, EMAT Flaw Detectors, UT Flaw Detectors, Ultrasonic Wall Crawlers, Hollow Rail Axle Inspection Sytems, UT Immersion Tanks, Eddy Current (ECT) Sorting Bridges, Gamma Ray and X Ray Pipeline Crawlers.