Parisa Shokouhi Named Editor-in-Chief of RNDE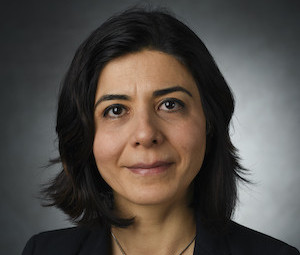 UNIVERSITY PARK, Pa. ó Parisa Shokouhi, associate professor of engineering science and mechanics and acoustics, was named editor-in-chief of Research in Nondestructive Evaluation (RNDE), the research journal of the American Society for Nondestructive Testing (ASNT).

Parisa Shokouhi, associate professor of engineering science and mechanics and acoustics. IMAGE: PENN STATE COLLEGE OF ENGINEERING
Shokouhi will begin her three-year term in January 2021 with an opportunity to renew her position in subsequent years.

RNDE covers experimental and theoretical investigations dealing with the scientific and engineering bases of nondestructive evaluation (NDE), its measurement methodology and a range of applications of materials and structures. Illustrative topics include advances in the underlying science of acoustic, thermal, electrical, magnetic, optical and ionizing radiation techniques and their applications to NDE problems, according to the RNDE website.

Shokouhi plans to pursue a few main goals in her new role. Her vision, she said, is to increase the visibility of the journal while ensuring accepted manuscripts are high-quality. She aims to improve accessibility of RNDE by expanding open access options for accepted manuscripts. To guarantee a high standard for journal articles, Shokouhi will build her own team of associate editors responsible for reviewing submissions, she said.

"Itís an honor to be recognized by established researchers in the field," Shokouhi said. "This is a great opportunity to make a meaningful impact on this journal and promote Penn State NDE research."

NDE is one of Shokouhiís research areas. At Penn Stateís Ultrasonics Lab, she uses nonlinear ultrasonic testing, an NDE method, to investigate microscopic features of materials. Her other research interests include stress wave propagation in fractured media, acoustic and seismic metamaterials, structural health monitoring and applied deep learning. She received a fellowship award from ASNT in 2019 and an ASNT faculty grant this year. She is an associate editor for the American Society of Civil Engineering Journal of Bridge Engineering.

"We are truly excited to have Dr. Shokouhi as the editor-in-chief for RNDE," said Neal Couture, executive director of ASNT, in a press release. "We welcome her ideas and vision of strategically placing RNDE as the top NDE journal as it aligns perfectly with ASNTís overall strategic goals and mission of creating a safer world by advancing scientific, engineering and technical knowledge in the field of nondestructive testing."