Leeb D & G Rebound Hardness Tester Released in US by Berg Engineering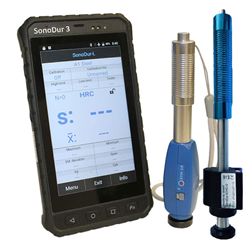 The SonoDur 3 Leeb D & G probes provide a hybrid solution – matching the current digital Ultrasonic Contact Impedance (UCI) testing method with Leeb hardness testing. With UCI and Leeb available in one product, you can obtain instant and reliable hardness results on a virtually limitless range of objects, from large metals with a rough surface area, to the small and complexly shaped. Uniquely, this new product release includes a stand-alone Leeb D & G product, which provides an affordable option and fulfills a pressing gap in the hardness testing market today.

NewSonic's SonoDur 3 Leeb hardness tester is designed for both heat treated and non-heat treated alloys and metals, with test forces ranging from 11N to 90N. With this latest release, you get all the features of the current SonoDur3, plus added versatility of Leeb D & G testing capabilities. Defined by its high repeatability and accuracy, it supports Bluetooth connectivity within 100 feet, while the Leeb hardness probe upgrade is made possible through the SonoDur L software. All newly purchased SonoDur 3s will operate with this software. This new system furthers the transition from the now discontinued MIC 10 and MIC 20 hardness testers, and allows complete conversion with an intuitive interface and touchscreen as well as state-of-the art storage and wireless data transfer.

According to Stephen Berg, CEO of Berg Engineering, "With the SonoDur3 Leeb D & G, NewSonic has completed the hardness testing puzzle by offering a truly comprehensive solution. It delivers the power of their UCI tester with Leeb, while also offering a stand-alone Leeb solution. There's really nothing else like this on the market. A real game-changer!"

Using SONO-D and SONO-G for heavy components, the SonoDur 3 will ensure your parts are in line with your hardness quality assurance standards.

Meets ASTM A956, ISO 16859, and GB/T 17394 standards
Allows more versatility and expands current SonoDur3 capabilities
High repeatability and accuracy
Bluetooth within 100 feet
Data storage of data transfer to SonoDur3
Works in conjunction with the SonoDur L app and all SonoDur 3s.

About Berg Engineering

Berg Engineering & Sales Company, Inc., a privately-held company based in Rolling Meadows, IL, provides sales and service to the nondestructive testing, material testing and electrical testing equipment industries. Berg Engineering's products facilitate inspections to improve cost, productivity and the quality of their customers' products. Brands distributed and serviced by Berg Engineering include Zetec, Waygate Technologies, Baker Hughes (formerly GE), Magnaflux, Buehler, Wilson, NewSonic, Bruker, Synergys, CorDEX, and many more. The company has been in business for over 50 years.