IONIX LAUNCHES NEW HOTSENSE™ DUAL ELEMENT PROBE
Source:
Ionix Advanced Technologies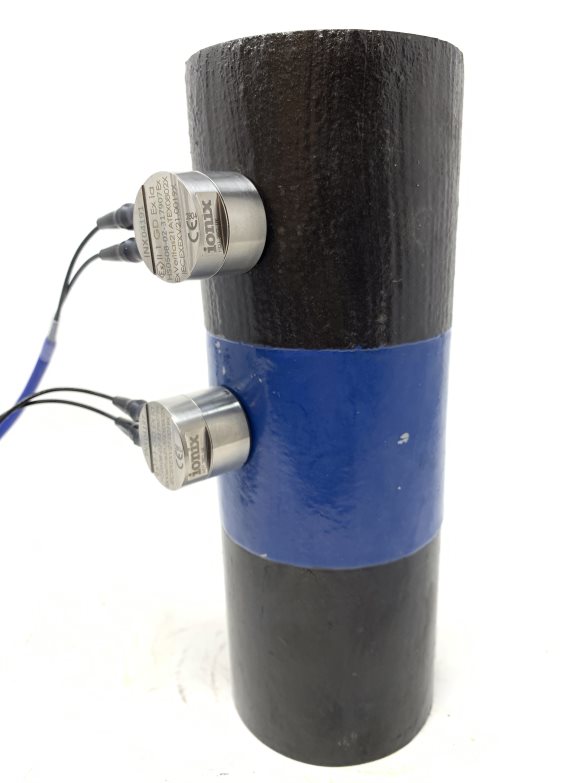 Ionix has launched its new dual element HotSense™ ultrasonic monitoring probe for on-stream thickness, corrosion and erosion monitoring that can be used in applications across refining, oil & gas, energy, nuclear, aerospace and process sectors.

The low-cost probe builds on the Ionix HotSense™ fixed UT probe and monitoring system product offering and is ideal for up-stream and mid-stream applications from -55 to +150 °C (-67 to +302 °F), and with dual element operation offering good sensitivity even on rough, corroded and pitted components.

The new HotSense™ DE probe is certified intrinsically safe and can be used in the most hazardous environments. It comes with a magnetic mount and can be coupled with epoxy or rubber pads and can be deployed without asset coating removal. This makes it ideal for installation on any sized asset and those with external corrosion protection. Straps may be used to deploy the transducer on non-ferrous materials.

The non-invasive wall trending solution can be used with your standard flaw detectors for the lowest cost entry to fixed point UT monitoring, allowing accurate and precise wall thickness trending. This enables plants to optimise and focus their asset integrity management and performance programs.

David Astles, CEO of Ionix, said: "With our new dual-element probe you can reduce the cost and complexity of on-stream ultrasonic monitoring. It offers the lowest cost ultrasonic monitoring solution on the market, is quick and simple to deploy on any size pipe or vessel and can also provide thickness measurements through coating.

"The probe can also help reduce operational costs and maximise production margins, as well as remove the need for installation during shutdown, maximising plant availability and reducing installation cost."

The DE probe can be connected to the HotSense™ CALIPERAY fully automated, wireless, UT monitoring system or manual Measurement Hub, to enable high frequency data collection and transmission direct to control centres and historians.