Removing the Risk of Confined Space Entry with Robotics
Source:
Eddyfi Technologies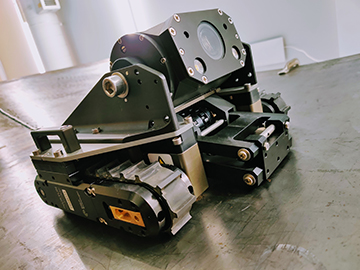 Possibly becoming most well known for their role in searching for victims in the rubble of what used to be the World Trade Center after the September 11 attack, Eddyfi Technologies robots have built a solid reputation for providing visual access into areas otherwise unreachable. With deep roots in power generation, oil & gas and petrochemical, and municipal water sectors, our remotely operated crawlers are routinely deployed for visual testing of capital assets and critical components in environments too dangerous for direct human intervention. While there is a lingering fear around job security with the introduction of robots, one thing remains constant: Eddyfi Technologies robotic solutions have been designed to enable, not replace, their human operators. With over 4.8 million confined space entries made every year in the United States alone, there's nearly two fatalities a week according to the US Department of Labor, Bureau of Statistics Census of Fatal Occupational Injuries program. We understand our role in helping change these statistics with a safer alternative that not only reduces risk to workers but also correspondingly increases environmental safety. With advances in technology, our confined space access robots are becoming the industry reference for remotely operated non-destructive testing (NDT) in potentially hazardous regions. This article highlights our standard NDT enabled robotics and OnSpec, or custom, solutions designed to meet your precise industrial remote operation requirements.

If you're familiar with Inuktun robots, you may be aware of their historical names and their formal reintroduction here. The Magg™ is certainly looking a little different these days. Truly taking NDT to the next level, Eddyfi Technologies is proud to offer the Magg enabled for advanced inspection operations.

On its own, the Magg is regularly deployed for remote visual inspection (RVI) to quickly assess real-time conditions of ferrous assets including storage tanks, pressure vessels, tank cars, ships, offshore platforms, pipelines, and wind turbines. The Magg can often perform integrity assessments while keeping the asset online, retaining a digital record of inspection for audit purposes later. It's true that the fully integrated high-definition continuous tilt camera can provide a clear visual reference but what happens when an anomaly is found? There is a clear action to take when a through-wall defect is found, for example, but more frequently, we require additional information on any indications to make confident decisions effectively and efficiently. That's why Eddyfi Technologies now offers three standard options for advanced data acquisition and analysis. Meet the line-up.

RVI and Ultrasonic Testing: Magg™ R-Scan

The R-Scan has traditionally been used as a handheld ergonomic scanner that offers a cost-effective alternative to conventional thickness measurement location (TML) and wall thickness inspections. Designed for use in remote locations and harsh petrochemical environments, the R-Scan features a unique dry-coupled ultrasonic wheel probe eliminating the need for couplant or constant water supply. Paired with the field-ready Mantis™ portable ultrasonic testing (UT) instrument, the duo can measure material thicknesses ranging from 2.5 millimeters (0.1 inches) up to 100 millimeters (4 inches). Beyond conventional UT, the Mantis offers advanced phased array UT (PAUT), time-of-flight-diffraction (TOFD), and total focusing method (TFM) through embedded software, Capture™. Magg R-Scan collects this detailed data up to distances of 30 meters (100 feet) away. It's time to keep people out of the treacherous terrain and let the Magg R-Scan in.

RVI and Alternating Current Field Measurement: Magg ACFM®

Alternating current field measurement, or ACFM®, offers a solution for detection and measurement of surface-breaking cracks through paint and coatings with minimal cleaning requirements. The Amigo™ 2 is the only commercially available instrument offering true ACFM recognized by many independent authorization bodies. Combined with Eddyfi Technologies ACFM probes like the SENSU 2 compliant array probe, the Magg ACFM is ideal for inspecting lap or butt welds with raised profile weld caps found in structural steels susceptible to cracking. Being able to detect incredibly small defects through thick coatings with a high signal-to-noise ratio (SNR) and at a fast scan rate on a robotic platform that can provide access to areas up to 50 meters (164 feet) away is leading the way for stronger risk management programs.Magg 310 ACFM

RVI and Tangential Eddy Current Array: Magg™ with Sharck™

World leaders in advancing the field of eddy current testing, Eddyfi Technologies continues to push the boundaries of what is possible in NDT. The Magg with Sharck offers proprietary tangential eddy current array, or TECA™, technology optimized for the detection and characterization of fatigue cracks in butt welds. Reddy® is the portable instrument featuring Magnifi® software responsible for providing real-time color maps of the area under inspection that makes data analysis intuitive to the operator. Able to identify cracks up to a depth of 7 millimeters (0.28 inches), the Magg with Sharck enables early detection preventing calamitous failure in the many industries that rely heavily on carbon steel assets like renewables and nuclear power. With remote access 30 meters (100 feet) away from the test location, operators can truly see far in advance.

Magg Enabled with Sharck for TECA Weld Inspection

Nowhere else can service providers and asset owners find leading-edge robotically deployed NDT solutions that eliminate the need for confined space entry (CSE) and work at heights whether by rope access or scaffolding. The Magg enabled crawler delivers repeatable, actionable, meaningful, and preventative data results (learn more about the RAMP Index here) without compromising on worker safety.

We're NDT Integration Specialists

Eddyfi Technologies Center of Excellence for Robotics also offers custom solutions for remotely operated NDT. With a wide umbrella of technology at our disposal, we have been commissioned to integrate our popular Spyne™ eddy current array screening tool with our proven magnetic crawlers for more thorough penstock inspections, for example. Being able to leverage the very best from all centers of excellence, Eddyfi Technologies' unique offering is actively addressing the industrial challenges that previously had no solution.

Beyond NDT Integration, We Create Custom Robots

With the understanding that Eddyfi Technologies is most recognized as the provider of the highest performance NDT inspection technologies, it is also backed by over 330 years of robotics experience for remote tooling applications. The modular robotic platforms by Eddyfi Technologies today are built on a 30-year history that includes the design and delivery of complex, custom, mobile robotic systems for sophisticated clients all around the world. Beyond engineering services from concept to a delivered solution, we leverage an agile project management design scheme to ensure we meet your specific requirements for an OnSpec custom robot designed to solve an industrial challenge through remote operations. We often find ourselves combatting the ambiguity of the term "robot" with pedestrian requests for something resembling Rosie the maid from The Jetsons cartoon, so allow us to clarify. OnSpec Robotics leverage Eddyfi Technologies' proven robotic platform designs to enable a custom solution that protects the public and the environment while promoting worker safety at scale. If you are interested in a robot greeter for the front of the store, OnSpec Robotics are not for you. If you require a specialized solution for nuclear sample transportation, cross-border patrol, FPSO cleaning or fabric maintenance, tool recovery, wire installation, or other activities that require remote intervention, let's talk! We have a dedicated website highlighting how we've solved this exact type of industrial applications at robotics.eddyfi.com.OnSpec Robotics for Industrial Painting

The solution for overcoming confined space entry fatalities is already here. We invite you to contact our robotics experts to discuss the better solution for NDT and remote operations today.