Zetec Introduces the EMERALD Phased Array Ultrasound System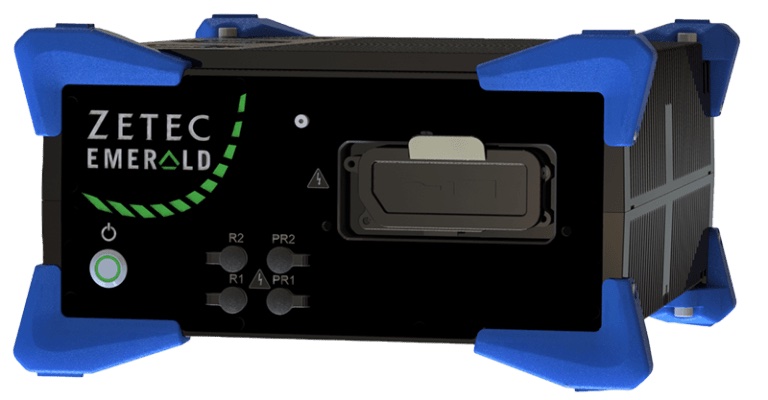 Zetec today introduced EMERALD, an advanced compact, industrial phased array ultrasonic testing (PAUT) system with the most powerful and versatile Total Focusing Method (TFM) image processing capability in its class. EMERALD delivers industrial-grade PAUT acquisition and TFM analysis tools in an easy-to-integrate package.


Designed for rugged environments and challenging nondestructive testing applications in oil and gas, power generation, manufacturing, in-service railway and aerospace, EMERALD delivers a wide range of intelligent features. They include 64-channel code-compliant PAUT; data acquisition through Full Matrix Capture (FMC) and Plane Wave Imaging (PWI) up to 128 elements; real-time multi-TFM processing for faster, more efficient image reconstruction; Time of Flight Diffraction (TOFD) capabilities; advanced focusing techniques such as Sectorial Total Focusing; bipolar pulses to penetrate thick components; and superior signal quality due to a high dynamic analog signal amplification range.

"EMERALD can process up to 1 million points per TFM frame and up to eight simultaneous TFM frame reconstructions," said Federico Zottig, Zetec Product Manager. "Its computational power sets the standard for compact phased array systems, and allows for expanded capabilities such as Sparse Firing Mode (Fast TFM) in the future."

EMERALD is driven by UltraVision, Zetecís proven ultrasound software that manages the entire inspection process including probe design, inspection technique development and validation, advanced data analysis and comprehensive reporting.

EMERALDís I/O management is designed to simplify integration for multi-instrument configurations. Encoder and critical I/O signals can be daisy-chained between instruments, simplifying cabling requirements. Each EMERALD unit can support up to three encoders, 12 input and nine output signals. UltraVisionís software development kit (SDK) enables users to integrate their own development within UltraVision to create highly customized solutions, which adds integration flexibility.

With fast, 5-GigE industrial-grade data throughput and a rugged IP65 designed enclosure, EMERALD can work in almost any industrial environment without external protection. Multiple instruments connected in parallel to same UltraVision session offer limitless capability for complex inspection configurations.

EMERALD is available with a dedicated probe splitter module to connect two 64-element probes simultaneously and also give access to four additional pairs of TOFD probes.