Sensor Networks Announces New Family of High-Temperature UT Transducers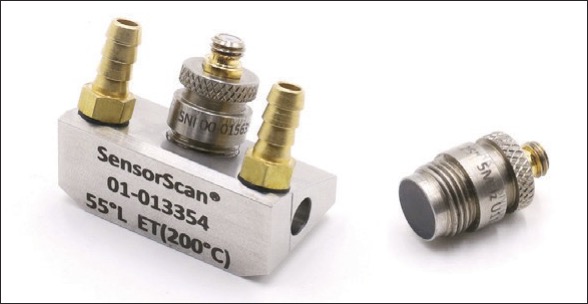 Sensor Networks, Inc., a leader in critical asset management applications, introduces a new line of high-temperature UT transducers designed specifically for operation at temperatures of up to 200-degree C (392° F).

Performing inspections of "hot assets" requires transducers that are engineered with materials capable of transitioning to, and operating at, the higher temperatures associated with on-line Oil & Gas and Power Generation applications. SNI has developed and extensively tested, a family of PAUT arrays and wedges, TOFD transducers/wedges and dual linear arrays capable of operating at these 200-deg C. (392° F) continuous metal surface temperatures.

SNI has confirmed that changes in the wedge's resultant refracted angle, due to temperature, are predictable and can be managed and compensated for in the calibration process. These new transducer designs protect the user's investment in the various probes while simultaneously realizing any flaws within the aforementioned high-temperature assets.

For additional information on Sensor Networks, Inc., visit the company's website at https://www.sensornetworkscorp.com or find us on LinkedIn.

About Sensor Networks

Established in 2014, Sensor Networks Inc. brings together the very best minds and industry experts in the business to deliver smarter solutions for the world's critical asset management applications. We address unique industrial challenges including: remote non-intrusive corrosion monitoring of plant piping, vessels and other components in refineries as well as experience-based UT applications engineering, standard and customized transducers and remote visual tooling for demanding in-situ test and inspection applications in aerospace and power generation.