HUD-Accepted Lead Paint Analyzer Available for Rent Exclusively Through Pine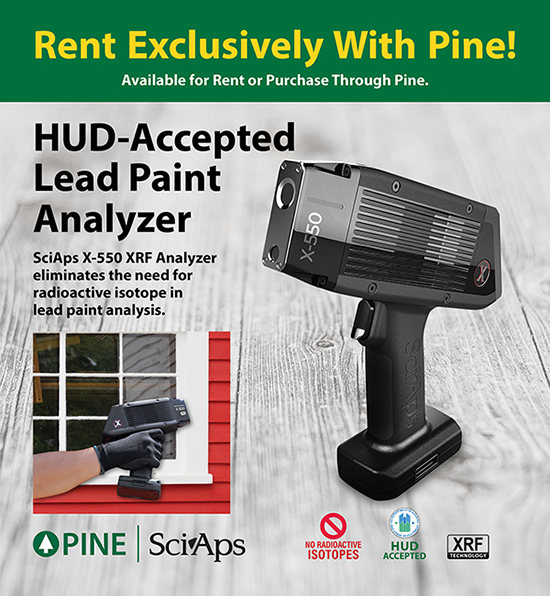 Rent EXCLUSIVELY with Pine the HUD-accepted lead paint analyzer - SciAps X-550. This XRF analyzer eliminates the need for the radioactive isotope in lead paint analysis.

SciAps offers the X-550 XRF analyzer, which now can detect lead-in-paint with the HUD LBP App installed. Designed specifically for the NDT/PMI markets, the X-550 is one of the lightest, fastest X-ray guns in the market for Positive Material Identification or PMI. It is specially configured with a Residuals App to deliver fast, precise results on low concentrations of Cr, Ni, Cu, Nb, and V, critical for residual testing. In addition to general alloy analysis, the X-550 also offers a sulfidic corrosion app optimized for low concentrations of Si in steel.

According to James Terrell, Director of Business Development at SciAps, "SciAps is an innovative company that puts a major emphasis on solving industry issues. These specialized applications like the Residuals App, Sulfidic App, and now the newest HUD-approved Lead-Based Paint app solve those issues. With this tube-based PCS, we have eliminated the need for costly source changes and added a safer product to the marketplace."

Maurice Eddy, Director of Operations and Sales, NDT-RVI at Pine, said, "The SciAps Handheld XRF Lead Paint Analyzer is a quantum leap forward in XRF sensing technology. It's advanced engineering, ease of use, and ergonomic design are far beyond the current generation of HUD XRF Lead Paint sensing devices."