Code Inspection & Testing Co
Contact: Steve Benoit
201B Marcon Dr
Lafayette
LA Louisiana
United States
70507
Keywords: API 510, Inspectors, X-Ray, NDT, Non-Destructive Testing, Ultrasonics, Shearwave, Magnetic Particle, Dye Penetrant, CWI, PMI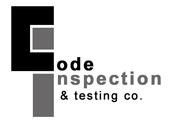 Incorporated in 2006, Code ITC is a full service nondestructive testing and
visual inspection company. Our inspections are performed throughout the
refining, power, pipeline and offshore industries.

Our highly trained and experienced team of inspectors, technicians and
technical support personnel have the certifications, training, knowledge and
recourses necessary to provide the highest level of inspection and testing
practices.

We take pride in exceeding industry standards and customer expectations
in all aspects of our industry.





Code ITC provides the following services:

API 510/570 Shutdown TA Inspections
Onstream Inspection Programs
Erosion - Corrosion Surveys
NACE Certified Coatings Inspections
API 653 Tank Inspections
Pipeline Inspectors
AWS/CWI Certified Welding Inspections
New Construction Inspections
National Board Certified Inspections (NBIC)
API 580 (RBI) Certified Inspections
Turnaround Planning
Vendor Surveillance Inspections
Autocad - P&ID Drafting
NonDestructive Examinations
ACCP & SNT-TC-1A Radiographic Inspections (RT) Digital/Conventional
ACCP & SNT-TC-1A Ultrasonic Shearwave Examination (UT)
ACCP & SNT-TC-1A Dye Penetrant Examination (PT)
ACCP & SNT-TC-1A Magnetic Particle Examination (MT)
Positive Material Identification (PMI)
Hardness Testing