20th km Raiwind Road
Lahore
Pakistan
Phone:
+92 (42) 3539 7486
Tags: Confident Results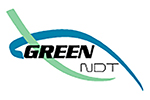 A Non-Destructive Testing, Inspection and Consultancy Company that serves the needs of Industries ranging from Engineering, Fabrication & Construction, to Marine Oil & Gas.

Green NDT (GNDT) has a comprehensive range of in house and on site NDT facilities and also offers a rapid response for advice by qualified and professional personnel for these industries.

Services provided include; Phased Array Ultrasonic Testing, Time of Flight Diffraction (TOFD), Conventional Ultrasonic Testing, Hardness Testing, Magnetic Particle Testing, Liquid Penetrant Testing, Coating Inspection, Visual Inspection and Third Party Inspection.