Massachusetts Materials Research
1500 Century Drive P.O. Box 810
West Boylston
MA Massachusetts
United States
01583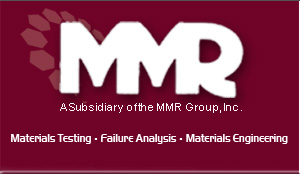 Massachusetts Materials Research, Inc. is an employee owned (ESOP) Materials Testing, Engineering and Consulting firm. We have been providing Professional Services throughout New England since 1961, and are part of the MMR Group, Inc.

The Group includes three divisions, each with its own staff and laboratory to collectively serve diverse markets and locations. We have extensive experience with metals and non-metals, such as plastics, ceramics, and composites.

We provide services to the Medical Device Industry, Aerospace Industry, Commercial Manufacturing Industries, the Defense Department, Transportation and Automotive Industries, Municipalities, Nuclear Industry, and Power Generation Industry.

We also provide Forensic Engineering, Materials Engineering, Consulting, and Expert Witness Services to the Legal and Insurance professions as well.

Not only are our Experts versed in many aspects of Material Science and commercial manufacturing processes, they are equally versed in the processes and procedures of providing Legal Depositions and Professional Courtroom Testimony.

We have multiple accreditations and numerous independent vendor approvals.

Services

Composition Analysis
Experience is of key importance when it comes to Analytical Chemistry. Our Chemists combine their years of experience with modern techniques and equipment to provide accurate, reliable results. They have experience and knowledge involving many types of materials including metals, plastics, polymers, ceramics, and organic & inorganic residues and deposits.

Metallography & Metallurgical Analysis
Superior metallurgical testing services should include the capabilities to perform microscopic, macroscopic and scanning electron microscope examinations. Our metallurgists and analysts have experience with all three. We cover a wide variety of material microstructures and are versed in many aspects of materials science.

Mechanical, Fatigue & Simulated Service Testing
Mechanical testing is used to determine a materials strength by applying loads that pull, compress, impact, bend, or cycle the material. Along with Simulated Service Testing, these techniques can be used to determine a material or components durability, performance capability, or life expectancy in everyday applications.

Non Destructive Testing & Inspection
Non Destructive inspection is a reliable and convenient method used to inspect a wide range of parts, components and materials. These techniques are employed to detect surface, subsurface and internal defects. NDT is an essential tool to insure product quality, safety and reliability.

Failure Analysis, Forensic Engineering & Consulting
When failures occur, we get to the root cause with our investigative expertise. Our experts have extensive experience with many aspects of materials engineering, failure analysis, and professional materials consulting. With experience and knowledge in many aspects of manufacturing processes, product performance, and design criteria, our line of professional service are second to none.

Expert Witness Services
Competent, Experienced, and Knowledgeable Expert Witness Services are difficult to find. Especially ones that provide comprehensive laboratory testing, failure analysis, and materials engineering capabilities under one roof. At MMR we offer all of these aspects, and more. Our proven record of success speaks for itself. Our services can provide you with the expertise and clout you need to have on your side.

History

Massachusetts Materials Research, Inc. (MMR) was founded by Dr. David Krashes in 1961. During the past 50 years, MMR has grown into The MMR Group, Inc. which consists of three laboratories and approximately 55 employees.

The MMR Group employs a number of professionals in a variety of disciplines including materials science, metallurgy, chemical analysis, mechanical engineering, and non-destructive testing. The laboratories are among the leading failure analysis laboratories in the country.

A 1949 graduate of Rensselaer Polytechnic Institute, Dr. Krashes received a Ph.D. degree in metallurgy at RPI in 1958. He is a Registered Professional Engineer in Massachusetts and Delaware.

As a professor at Worcester Polytechnic Institute for five years, he taught courses in metallurgy and non-metallic materials, performed research on bi-metallic castings, and helped develop a new metallurgy education program and department.

In the early 1960s, he believed that the best way to improve a product was to learn why it failed or wore out in the first place. He was a leader in showing the metallurgical profession that microscopy and electron microscopy were primary tools to use in evaluating failed products, and first began to develop the techniques of failure analysis as it is practiced today.

Additionally, he has developed heat treatments and manufacturing procedures for nuclear reactor fuel elements and control rods, produced the first extruded molybdenum tube, and the first tubes of stainless steels bonded to refractory metals. Technically, he specialized in deterring causes of failures of materials and products and evaluating safety of machines.

In 1970, he was significantly honored for his work by being named in the first class of "Fellows" of ASM International (formerly American Society for Metals). He has given lectures on determining causes of failures of products, has written a number of articles, and has become widely recognized as an expert failure analyst among metallurgists, material engineers, and the metals industry. He has been a national trustee, the treasurer, vice president, and in 1982, president of ASM International. He is also a member of AIME and ASTM.

In 1995, he passed this rich history on to his employees by selling the company to them under an ESOP agreement so they could all be company owners themselves. He still resides on the Board of Directors today.