NDT News

Spectroline Releases the CLARITY™ 365 UV Light
Posted:

2019-9-24
Spectronics Corporation is proud to release the CLARITY™ 365: their first ASTM-compliant flashlight for non-destructive testing (NDT). Standing up to strict NDT standards, this product provides all of the top features required in an NDT flashlight. The IP68-rating means that it can withstand continuous emersion in one meter of water, making it ideal for rough environments. The 9-hour battery life is enough for a full work shift, making it the longest-running NDT flashlight on the market. Each CLARITY™ 36
...Read More.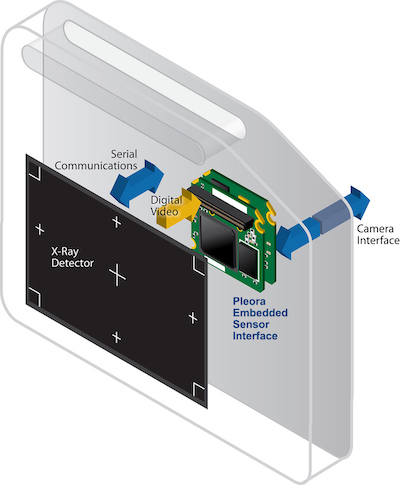 Pleora Technologies Advances Flat Panel Detectors
Posted:

2019-9-24
Pleora Technologies, the world's leading supplier of high-performance sensor interfaces, today introduced new embedded hardware and IP solutions that provide a straightforward way for manufacturers to integrate high-bandwidth Gigabit Ethernet connectivity into flat panel detectors (FPDs). Pleora now offers the industry's widest portfolio of sensor interfaces for FPDs. The company's market-proven products are widely deployed in new and retrofit radiography, panoramic dental, and cargo screening X-ray app
...Read More.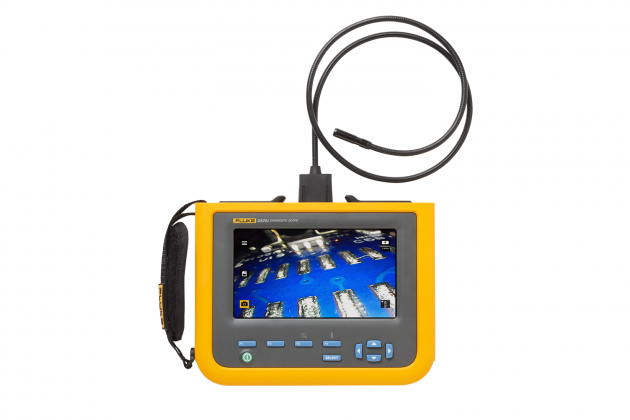 New Fluke Videoscopes Hit the Market
Posted:

2019-9-24
Fluke DS701 and DS703 FC Diagnostic Videoscopes enable maintenance teams to diagnose problems without tearing down equipment. The new videoscope probes are IP68 rated to stand up to the dirtiest, harshest industrial work environments. While videoscopes are commonly used in many applications, industrial inspections require a powerful, high-resolution videoscope that clearly displays the condition of internal equipment components. High-resolution videoscopes allow industrial maintenance teams to quickly i
...Read More.
Sintavia Acquires QC Laboratories
Posted:

2019-9-24
Sintavia, LLC, the leading independent additive manufacturer supporting the Aerospace & Defense industry, announced today that it had acquired QC Laboratories, Inc. ("QC Labs"), a non-destructive testing ("NDT") services company based in Hollywood, Florida. The acquisition greatly enhances Sintavia's NDT capabilities for commercial aerospace applications, particularly with respect to surface finish conformance testing. Post-closing, it is expected that QC Labs will operate as a stand-alone subsidiary of Sin
...Read More.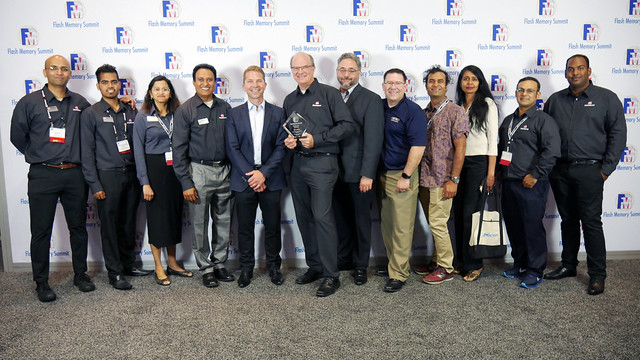 Low-Power FPGA Video and Image Processing Solutions
Posted:

2019-9-24
As compute-intensive, vision-based systems are increasingly integrated at the network edge, Field Programmable Gate Arrays (FPGAs) are quickly becoming a preferred flexible platform for next-generation designs. In addition to requiring high bandwidth processing capabilities, these intelligent systems are deployed in small form factors with tight thermal and power constraints. To help developers accelerate designs, Microchip Technology Inc. (Nasdaq: MCHP), via its Microsemi subsidiary, today announced its Sm
...Read More.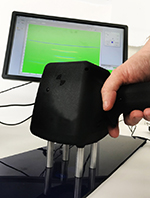 Baugh and Weedon Introduces Terahertz Inspection for Non-conductive Materials
Posted:

2019-9-16
It is rare for NDE to welcome a whole new inspection and measurement technology but, as Terahertz technology develops, Terahertz Inspection Systems are now being introduced and used in NDT as a cutting-edge inspection technique providing solutions to previously insoluble applications and measurements. Baugh and Weedon are now marketing and supporting TeraMetrix Terahertz inspection solutions worldwide. We have a Testing Facility for your samples based in St Albans and a dedicated expert to discuss your N
...Read More.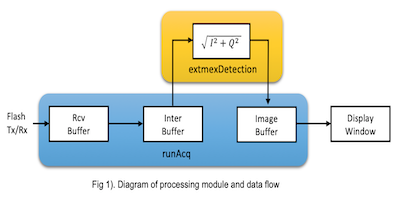 Verasonics Vantage™ Provides User-Programmable Algorithms
Posted:

2019-9-16
The Verasonics Vantage software is designed to provide users with unparalleled flexibility for leading-edge research in many ultrasound and ultrasonic applications. One of the features of the Vantage System that enables flexibility is the External Function feature. This built-in capability enables a researcher to apply their own processing algorithms and functions to the Vantage signal path by a simple reference in the user's sequence specification. While straightforward integration is provided for custo
...Read More.
Sensor Networks, Inc. Opens New Headquarters
Posted:

2019-9-13
State College, PA - Sensor networks, Inc. (SNI), a leader in critical asset management applications, recently re-located to its new headquarters at 366 Walker Drive in State College, Pennsylvania in order to accommodate new equipment and increased staff. A ribbon cutting ceremony, attended by local dignitaries and the media, was held on August 15, 2019 to celebrate the occasion. "For SNI to grow, we needed to increase production capacity, which would require a larger building and adding a second shift
...Read More.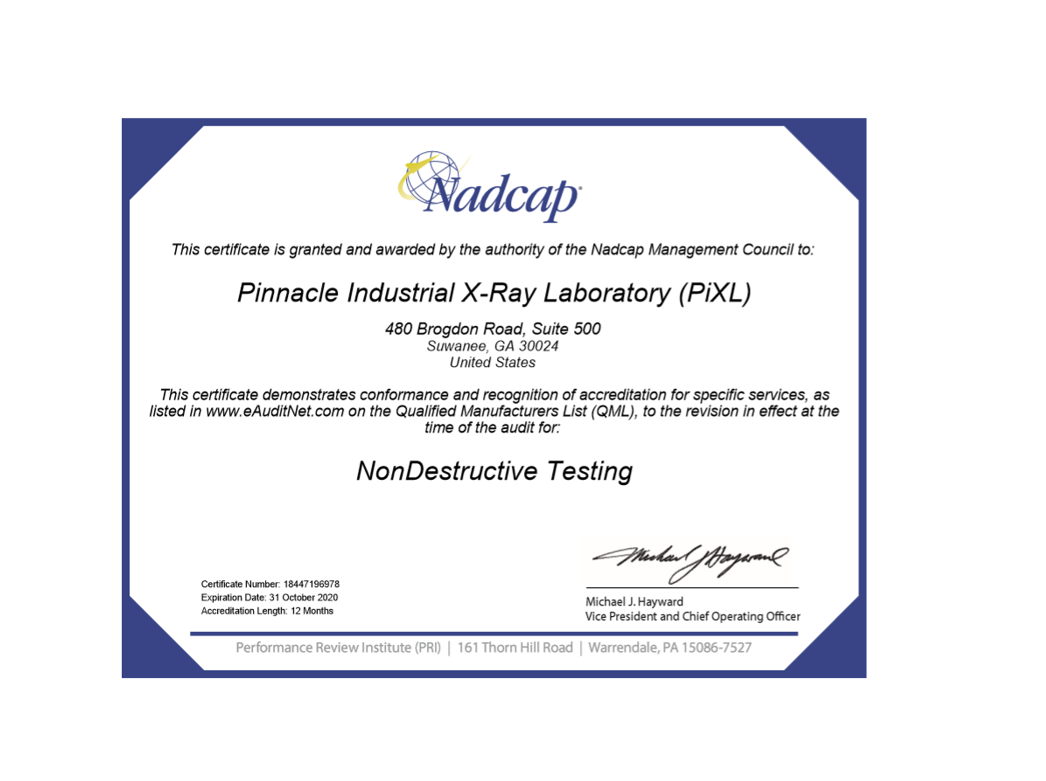 PiXL Receives NADCAP Certification for Digital Radiography and AQS
Posted:

2019-9-11
In January of 2019, Pinnacle X-Ray Solutions (PXS Inc.), an Original Equipment Manufacturer of digital x-ray and computed tomography turn-key systems and solutions, expanded its portfolio by opening new doors to PiXL. PiXL (Pinnacle industrial X-Ray Laboratory) is a 5,000 sq. ft facility providing leading edge X-Ray/CT inspection solutions. PiXL's functions and focus are to provide end-to-end solutions for customers, not only interested in the technology, but required to perform inspections by their end
...Read More.
Improved Usability, Visualization and New Capabilities with Simpleware Software Release P-2019.09
Posted:

2019-9-11
We are pleased to announce Simpleware Release P-2019.09. The latest version of Simpleware software includes many exciting new features and performance improvements. Simpleware ScanIP Medical version includes new support for handling and generating X-ray images. What's New in Version P-2019.09 Improved Usability Create a custom 'My tools' tab for frequently used tools to be accessible all in one place. Find tools quicker with the new search bar and [Ctrl+F] shortcut. Shorten learning curves with a
...Read More.
Next 10 >>>
Displaying 111 through 120 of 200

More Newss: 1 | 2 | 3 | 4 | 5 | 6 | 7 | 8 | 9 | 10 | 11 | 12 | 13 | 14 | 15 | 16 | 17 | 18 | 19 | 20