NDT News

Sortie Support Team Delivers Decisive Air Power
Posted:

2018-1-25
We often think about all the aircraft involved in delivering cargo, bombs and personnel on the battlefield. The people behind the scenes are often forgotten. These Airmen are responsible for making sure the tools and equipment needed to repair aircraft are accessible and working properly. The 386th Expeditionary Maintenance Squadron Sortie Support Flight is made up of four flightline occupations, or Air Force specialty codes, that contribute to Operation Inherent Resolve. The team issues, maintains and i
...Read More.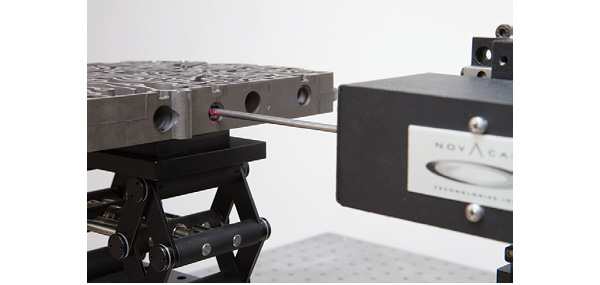 3D Imaging Enables High-speed Bore Inspection
Posted:

2018-1-25
New inline-inspection applications are being developed for industry thanks to advances in high-speed, low-coherence interferometry, a high-resolution three-dimensional (3D) imaging technology. Precision bore holes, for example, must adhere to strict geometric dimensioning and tolerancing (GD&T), including straightness, cylindricity, circularity, taper, distortion, runout, roughness characteristics, semi-transparent coating thickness, or defect characterization. Also, features on the insides of bores, such a
...Read More.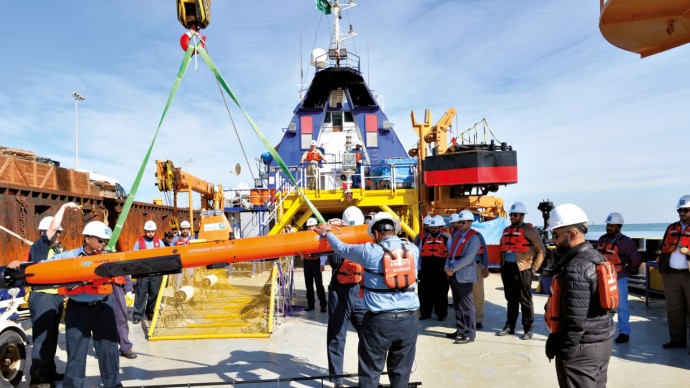 Saudi Aramco Deploys Autonomous Underwater Inspection Vehicle
Posted:

2018-1-18
A new autonomous underwater vehicle (AUV) that can conduct offshore platform debris surveys to identify seabed clearance and potential debris was recently inaugurated by Saudi Aramco. The AUV, which can also conduct offshore pipeline inspections to determine subsea asset integrity and accurately locate possible leaks, is also cost efficient. A job that could require a $50 million large survey vessel can now be done swiftly with the $2.5 million AUV. In addition to its cost avoidance benefits, the AUV'
...Read More.
A Bird's-Eye View: Drones in the Power Sector
Posted:

2018-1-18
Unmanned aerial systems—drones—have quickly found their place in the power sector. But as the industry moves out of test cases and experiments, and into full implementation of drones, it is facing a whole new set of challenges and opportunities. The power sector—one of the world's most rigid industries—is in the midst of a profound transition. Disrupted not just by economic and environmental forces, the industry is facing rapid technological changes that have forced companies to reevaluate business
...Read More.
IPC Technology Detects Structural Issues In Bridges Before They Become Disasters
Posted:

2018-1-18
There are numerous situations that can lead to premature structural issues or the degradation of a bridge. For example, tiny stress cracks that aren't visible to the naked eye could form, and unless caught, could cause a disastrous collapse. Another example might be improperly mixed grout that is used inside the post tension tendons that help hold up a bridge. If the chloride content in the grout mixture is wrong, the high chloride content of the grout can cause the steel cables to corrode prematurely. Infr
...Read More.
ZEISS Acquires Majority Stake in Italian X-ray Provider Bosello
Posted:

2018-1-18
ZEISS (Germany) and BOSELLO HIGH TECHNOLOGY (BOSELLO) (Italy) have announced that the ZEISS Group will acquire a majority stake in the provider of industrial X-ray solutions. For ZEISS, BOSELLO's tailor-made solutions are a further step in the process of evolving into a one-stop provider of non-destructive measuring and inspection technology. The shared goal is to strengthen inline computed tomography in the production environment, a technology that increases the level of quality in the inspection of alu
...Read More.

Tracerco Receive Lloyd's Recognition for Subsea CT Scanner
Posted:

2018-1-18
Tracerco, part of Johnson Matthey plc, has been awarded Lloyd's Register (LR) recognition for its acclaimed subsea CT scanner, Discovery™. The Qualification Trials of Discovery™ were conducted in a simulated subsea environment at Tracerco's HQ in Billingham, UK and successfully determined the depth limit for reliable POD (Probability of Detection) and typical sizing tolerances for metal loss anomalies at the inner and outer positions of subsea pipes. These capabilities were determined in accordance
...Read More.
Industrial Inspection & Analysis Acquires Timco
Posted:

2018-1-18
Industrial Inspection & Analysis, Inc. (IIA) USA – a leader in providing inspection, testing, and engineering services for the energy and manufacturing industries – has acquired Timco Engineering, Inc (Timco). With this acquisition, IIA adds all of Timco's highly regarded product safety testing and certification services with strategic locations in the U.S. and China. Timco Engineering services include testing and certification of consumer products and other devices emitting RF waves for compliance with
...Read More.
Danatronics Welcome Larry Gochnauer as New Sales Manager
Posted:

2018-1-18
It is with great pleasure that Danatronics Corporation welcomes Mr. Larry Gochnauer as our Sales Manager. Larry comes to us with more than three decades of world-wide NDT sales and marketing experience with his major emphasis on hand-held ultrasonic products, making him the perfect fit for our growing product line. Larry has a great track record of successful and long-time employment over the last three decades. He has sold and serviced portable ultrasonic instruments ranging from simple thickness gages
...Read More.
Non-Destructive Testing (NDT) Products Limited Announces Successful Acquisition of Infinitex
Posted:

2018-1-17
Non-Destructive Testing (NDT) Products Group of Companies, a major re-seller and distributor of NDT and aviation equipment and supplies, announced today that it has acquired substantially all the assets, intellectual and proprietary property including the trademarks of Infinitex Corp. Infinitex Corp. is a New York-based company leading the field of ultra-filtration technology with its pioneering Splitter and Ultra Series. Infinitex is an OEM of membrane-based filtration systems designed to extract clean
...Read More.
Next 10 >>>
Displaying 131 through 140 of 200

More Newss: 1 | 2 | 3 | 4 | 5 | 6 | 7 | 8 | 9 | 10 | 11 | 12 | 13 | 14 | 15 | 16 | 17 | 18 | 19 | 20