NDT News

Peak NDT and KUKA Join Advanced Nuclear Research Centre
Posted:

2019-5-12
Peak NDT Limited, a world leading designer and manufacturer of ultrasonic non-destructive testing equipment, has joined forces with the University of Strathclyde as the newest Tier 2 member of the Advanced Nuclear Research Centre (ANRC). The University of Strathclyde has a track record of supporting the UK and International nuclear industry for over 60 years. Through the ANRC it supports the safe and efficient operation of nuclear facilities through process, risk and technical innovations. Formed in 2
...Read More.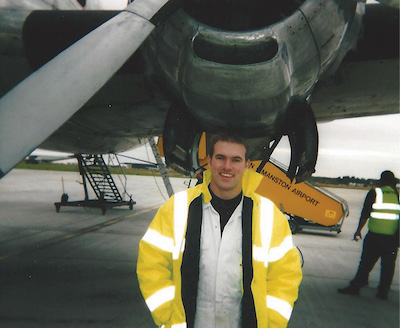 Martin Sutton Joins Baugh & Weedon and ETher NDE
Posted:

2019-5-12
Baugh & Weedon and ETher NDE are delighted to be able to welcome Martin Sutton to the Sales Team as Area Sales Manager and European Sales Manager respectively. Martin has a rich and long history within the NDT industry that spans over twenty years. Martin started his NDT career with a work experience placement in an Aviation heavy maintenance facility (looking after ageing wide body freighters) at Modern Jet Support Centre on Manston Airfield in Kent. While here, Martin showed a flair and passion for the
...Read More.
Intero Integrity wins the 2018 SPRINT Robotics Award for Tank Floor Inspection
Posted:

2019-5-12
The SPRINT Robotics Award 2018 has been awarded to Intero Integrity. This award by the SPRINT Robotics Collaborative is awarded annually in recognition of ground-breaking collaborative work towards the acceptance of inspection and maintenance robotics in our society. The award was presented on November 13th in Galveston (Texas, USA) during the first edition of the SPRINT Robotics World Conference for Inspection and Maintenance Robotics. Intero Integrity was awarded the prize for their collaboration with
...Read More.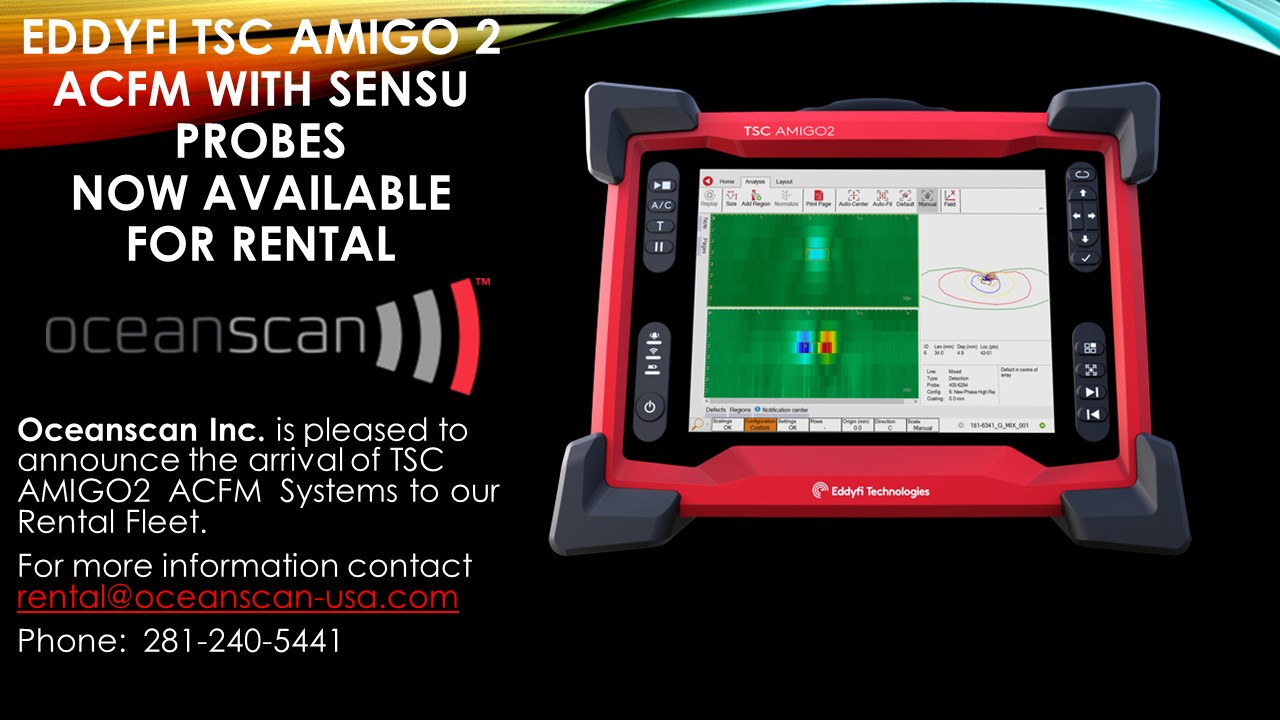 Amigo2 Now available for Rental from Oceanscan
Posted:

2019-5-6
Oceanscan Inc. now offer the Eddyfi TSC Amigo2 ACFM System with Sensu probes to its rental fleet. Oceanscan is fully committed in providing the most Advanced Inspection Equipment available. The acquisition of the Eddyfi TSC Amigo2 systems are only one of many investments on the horizon for the expansion of capabilities in the USA. Amigo2 is engineered around a highly advanced signal acquisition and processing system able to process data significantly faster than the original Amigo, for a data range that
...Read More.
World Condition Monitoring Congress & 3rd Singapore NDT Conference
Posted:

2019-5-2
The third iteration of the Singapore International Non-destructive Testing Conference and Exhibition (SINCE2019) organised by the Non-Destructive Testing Society Singapore (NDTSS) will take place at the iconic Marina Bay Sands Resort and Convention Centre, Singapore from 4th to 5th December 2019. SINCE2019 will be held in conjunction with the 2nd World Congress on Condition Monitoring (WCCM2019). The conference includes a technical programme that will present the latest research and technology developmen
...Read More.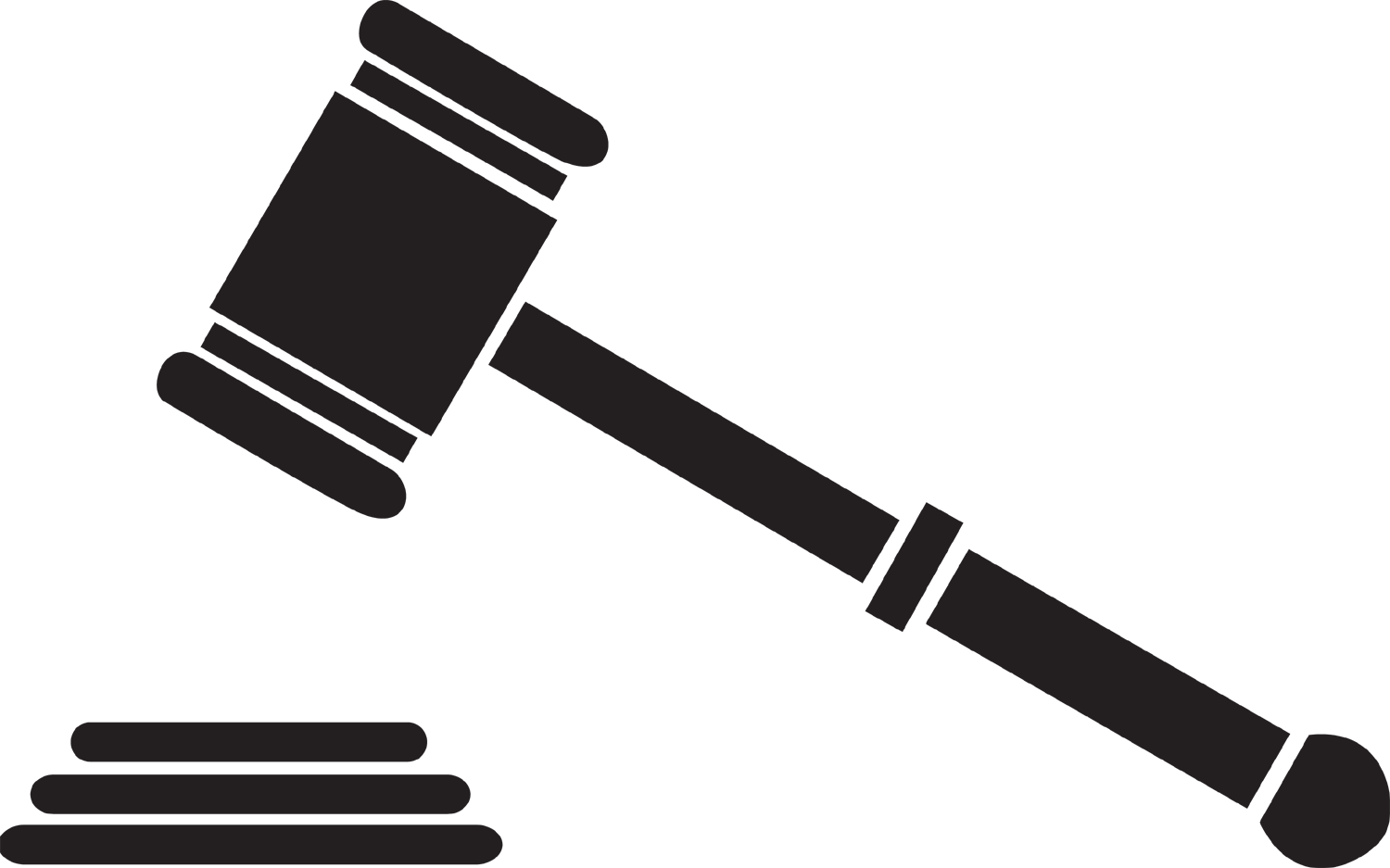 Hydro Extrusion USA Settles with DOJ on Inspection Fraud and Falsification
Posted:

2019-5-2
An Oregon aluminum extrusion manufacturer has agreed to pay $46 million to NASA, the Department of Defense, and others to resolve criminal charges and civil claims relating to a 19-year fraud scheme that included falsifying thousands of certifications for aluminum extrusions provided to hundreds of customers. Assistant Attorney General Brian A. Benczkowski of the Justice Department's Criminal Division, Assistant Attorney General Jody Hunt of the Justice Department's Civil Division, U.S. Attorney G. Zacha
...Read More.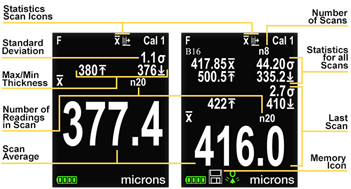 Addition to SSPC-PA 2, Determining Conformance to Coating Thickness Requirements
Posted:

2019-5-1
According to SSPC: The Society for Protective Coatings, Paint Application Standard No. 2 (SSPC-PA 2), Procedure for Determining Conformance to Dry Coating Thickness Requirements, is one of the most frequently downloaded standards from the SSPC Marketplace. Measuring coating thickness is one of the most commonly specified quality control processes, and SSPC-PA 2 is recognized across the globe as the standard for frequency and acceptability of coating thickness measurements. SSPC-PA 2 was first published as a
...Read More.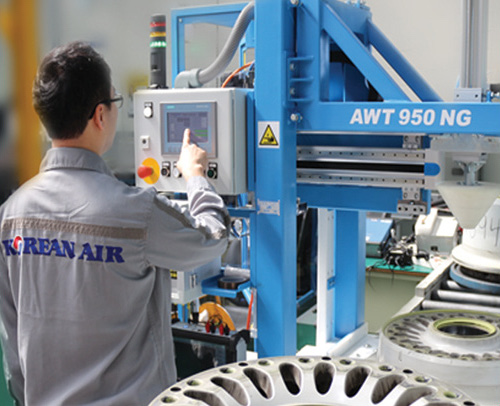 The DAES Group Announces Strategic Cooperation with ATG
Posted:

2019-4-30
During the occasion of the MRO Americas 2019, The DAES Group, a premier aerospace global provider, and ATG Ltd., an engineering company from the Czech Republic, specialized in NDT (Non-Destructive Testing) solutions, announced a strategic partnership to strengthen and grow their business activities. The partnership is effective immediately and is aimed on supporting the aviation industry globally. "We're excited about our collaboration with ATG Ltd. and we are confident that the aerospace industry will b
...Read More.
Distribution Network Operator Improves Efficiency with Power Line Inspection
Posted:

2019-4-30
Laserpas, a utilities management company, has helped the biggest distribution network operator in Slovenia, Elektro Ljubljana, to improve its power line maintenance efficiency by inspecting a portion of its grid. In the area inspected, Laserpas helped to identify multiple objects that posed an imminent danger to the power grid. These objects could potentially lead to power supply interruptions and, in a worst-case scenario, lead to a serious injury or even a fatality. During the inspection, La
...Read More.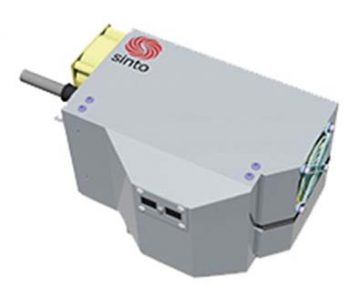 Sinto America Introduces PSMX-II Residual Stress Detection Device
Posted:

2019-4-30
Sinto America introduces the PSMX-II: the fastest, non-destructive, in-process stress measurement device on the market! PSMX-II is the latest in Sightia™, the brand name of the technology used for surface evaluation after blasting, peening and die-casting processes. "Sightia™ offers total support for surface evaluation in all industries where high durability is required. This technology is applicable to various industries, from component parts for automotive, welding, aircraft, and construction machin
...Read More.
Next 10 >>>
Displaying 181 through 190 of 200

More Newss: 1 | 2 | 3 | 4 | 5 | 6 | 7 | 8 | 9 | 10 | 11 | 12 | 13 | 14 | 15 | 16 | 17 | 18 | 19 | 20