NDT News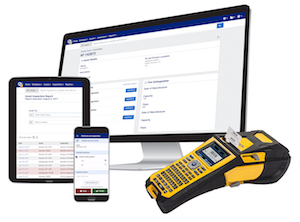 Brady Launches BradyConnect Inspection Management Software
Posted:

2017-9-30
Brady (NYSE:BRC), a global leader in industrial and safety printing systems and solutions, announced today the launch of BradyConnect Inspection Management software, a fully integrated safety, identification and business productivity solution. This cloud-based software offers a seamless experience for facility management by combining inspection and asset management capabilities with label creation and printing solutions. "We know that having a safe and compliant workplace is important, and having an effe
...Read More.
Teledyne DALSA Announces Production of Industry's First Line Scan Polarization Camera
Posted:

2017-9-30
Teledyne DALSA, a Teledyne Technologies company and global leader in machine vision, announced production of the new Polarization camera to its industry-leading Piranha™ family. First announced in Q2 2017, the Piranha4 Polarization camera is now in full production with improved performance. Polarization imaging significantly enhances detection capability in many demanding applications and represents a powerful new addition to system designers' machine vision toolboxes. The Piranha4-2k Polarization camera
...Read More.
DEKRA Acquires Core Visual Inspection Services of Charlotte, NC
Posted:

2017-9-30
The International expert organization DEKRA is acquiring the US inspection company Core Visual Inspection Services (Core VIS) located in Charlotte, North Carolina. For DEKRA, this means entering into the inspection business for power plants in the USA. Core VIS has a specific focus on mechanized testing in the field of nuclear power but conventional plants and gas turbines are also included in its customer portfolio. A particular strength is in the use of remote-controlled visual inspection robots that c
...Read More.
ZEISS Industrial Metrology to Feature Solutions at the Quality Show
Posted:

2017-9-30
Due to their high level of precision, measurements performed with coordinate measuring machines (CMMs) will be a key part of the smart factory. At the Quality Show in Chicago, October 24-26, ZEISS will have two technology areas to show visitors how the measuring lab can be networked intelligently in the future. Booth 1108 will feature ZEISS CMMs, optical machines, and surface and form measurement systems. Booth 601 will illustrate the importance of in-line inspection and process control. The ZEISS learning
...Read More.
Rope Access Enhances Cost Effectiveness of NDT Inspection
Posted:

2017-9-30
Rope access is the most cost-effective and efficient means of gaining access to difficult-to-reach areas such as boilers during shutdowns, Skyriders Marketing Manager Mike Zinn explains. These are categorised as either intermediate shutdowns (of nine to ten days' duration for inspections) or general outages (which can take up to 16 days for the inspections). In general, power-station shutdowns have a limited duration, during which time critical components are inspected, in addition to any trouble spots i
...Read More.
Transneft Diascan, JSC Present New Flaw Detector for Large Diameter Pipe
Posted:

2017-9-30
Transneft Diascan extended the line of diagnostic devices of its own production with a new flaw detector for determining the position of 16-DST pipelines. The device passed acceptance tests and was accepted into operation by the commission of Transneft. This diagnostic complex is a new standard type of the range of DST flaw detectors used by specialists of Transneft Diascan for in-line diagnostics since 2012 and is designed to determine the spatial position of the main pipelines with an external diameter
...Read More.

A4A/SAE Better Way Award Honors Composite Structure Inspection Training Program
Posted:

2017-9-30
Airlines for America (A4A), the industry trade organization for the leading U.S. airlines, and SAE International, the ultimate knowledge source for mobility engineering, jointly presented the 15th annual "Better Way Award" at the recent Nondestructive Testing (NDT) Forum to a team comprising members from Sandia National Laboratories, the Federal Aviation Administration, Delta Air Lines, NORDAM, and NDT Solutions, Inc. for furthering the science and efficacy of nondestructive testing. Recognizing the incr
...Read More.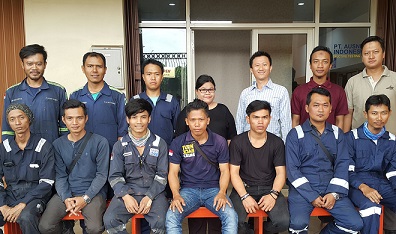 AusNDT is ISO 17025 Accredited NDT Company in Indonesia
Posted:

2017-9-22
AusNDT has been accredited by Komite Akreditasi Nasional (KAN) in accordance with ISO 17025 on 6 June 2017 and become a Pioneer as Non-Destructive Testing Laboratory in Indonesia. For AusNDT, a Small and Medium-sized Enterprise (SME), it is a remarkable achievement to become the first accredited NDT Lab and we relish the challenges to maintain high standard and quality. Besides Non-Destructive Testing Services, AusNDT offers Load Testing, Microwave & Radio Frequency Radiation Testing, and Radioactive Su
...Read More.
FLIR ONE Pro: The Most Powerful Ever Built
Posted:

2017-9-21
Recently FLIR unveiled a professional-centric model of the third generation FLIR ONE attachment for iOS and Android, and it's the most power-packed FLIR ONE® to date – the FLIR ONE Pro. We built the FLIR ONE Pro for serious do-it-yourselfers, contractors, home inspectors and anyone who wants the most power and functionality from their smartphone thermal camera. The FLIR ONE Pro delivers a major advancement in thermal image quality and capabilities available in a smartphone thermal camera. Four Times t
...Read More.
Yxlon Appoints Keith Bryant Global Director of Electronics Sales
Posted:

2017-9-20
Hamburg, August 4th, 2017: YXLON International is very pleased to announce the appointment of Keith Bryant as Global Director Electronics Sales. Keith brings with him over 25 years successful experience at a senior level in Technical Sales, mostly in the x-ray field. He will be responsible for all channels to market, and develop our global sales team to be even closer to our customers, understanding their needs and reacting promptly. Keith says: "I have known Yxlon as strong competitors for a long time
...Read More.
Next 10 >>>
Displaying 181 through 190 of 200

More Newss: 1 | 2 | 3 | 4 | 5 | 6 | 7 | 8 | 9 | 10 | 11 | 12 | 13 | 14 | 15 | 16 | 17 | 18 | 19 | 20