NDT News

Visit our Pine booth #216 at ASNT 2022 – The Annual Conference, October 31 – November 3, 2022, in Nashville, TN
Posted:

2022-10-27
Visit our Pine booth #216 at ASNT 2022 – The Annual Conference, October 31 – November 3, 2022, in Nashville, TN. Meet the Pine team to see the latest NDT & RVI equipment demonstration. Hear about our exclusive channel partner equipment offerings, pick up fun giveaways, and enter our raffle to win a Yeti cooler! Learn more and register at https://asnt.eventsair.com/asnt-2022-the-annual-conference. Be sure to visit our Pine website at https://www.pine-environmental.com/.
...Read More.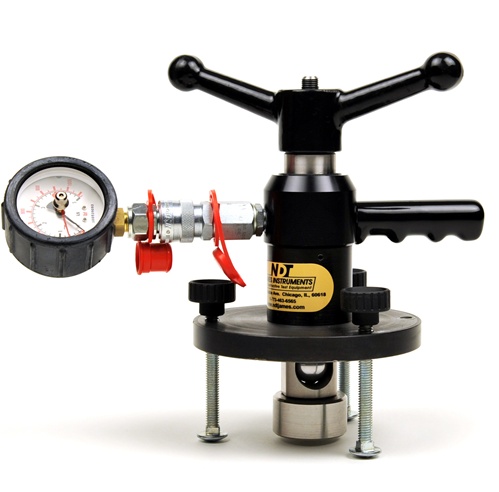 New Product Release - The James Bond Test ™ MK IV
Posted:

2022-10-26
The James Bond Tester™ MK IV or pull off adhesion test measures the bond strength or tensile strength of concrete, asphalt, tile, concrete repair, or other overlay material by the direct tension or pull off method. By pulling a 50 mm (2 inch) steel disk attached to the material under the unit can, * Measure the near surface strength of a substrate in order to determine the substrates quality before applying an overlay * Determine the bond strength of a repair or overlay material after it is applied to
...Read More.
The Case for Caisson Inspection with Sonyks™
Posted:

2022-10-25
Pioneered by Teletest and originally designed for detecting corrosion under insulation in petrochemical plant pipework, guided wave testing (GWT) has evolved, now suitable for a wide range of varying applications, like the challenging offshore inspection of risers and caissons. With unprecedented ability to inspect more applications than ever while saving you time and money, find out why the next generation in GWT, Sonyks™, is making waves in the offshore oil and gas sector. Offshore inspections po
...Read More.
The Remotely Operated Robotic Crawler Solution for Confined Space Inspections in Nuclear Power Plants
Posted:

2022-10-18
Eddyfi Technologies' remotely operated robotic crawlers have a long history of being deployed for visual testing operations across the nuclear power generation sector. Perhaps most famously known by industry for their involvement in the Fukushima remediation efforts, these inspection robots have proven time and again their fitness for service in environments unsuitable for direct human intervention. This article takes a look at how Korean based company, enesG, leverages both standard and OnSpec custom robot
...Read More.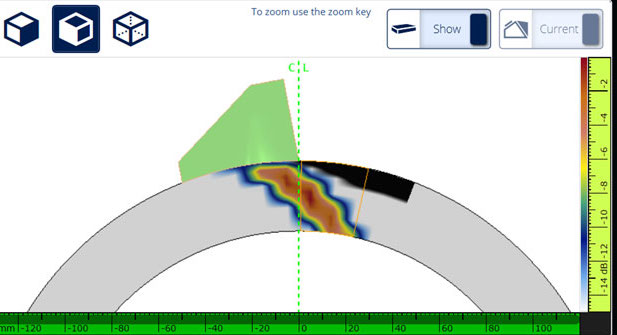 3 Ways That the Acoustic Influence Map Is Better in MXU 5.10
Posted:

2022-10-18
Since the Acoustic Influence Map (AIM) modeling tool was introduced with the launch of the OmniScan™ X3 flaw detector, it has become an integral assistance tool for the design of total focusing method (TFM) scan plans. AIM provides an estimate of the TFM acoustic intensity coverage for different TFM wave sets and scatterer types, enabling you to create a scan plan that maximizes the probability of detection (POD). With the release of MXU 5.10, you'll benefit from three major upgrades to AIM that fu
...Read More.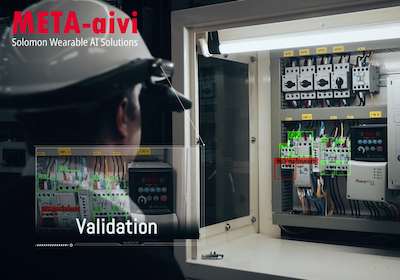 META-aivi Transforms Industrial Safety Inspection With AI-Assisted Verification
Posted:

2022-10-18
SOLOMON Technology Corporation, a leader in the development of AI and 3D vision solutions, brings worksite safety inspection to a whole new level with META-aivi. This hands-free wearable AI solution enables validation of work conducted by frontline workers, empowering them to solve a wide range of complex tasks such as verification of wiring layouts and industrial panel settings. META-aivi sets the standard for efficiency and safety, greatly improving frontline operations by detecting and recognizing errors
...Read More.
North Star Imaging Opens X-Ray Inspection Services Lab in Orlando
Posted:

2022-10-18
North Star Imaging is now providing industrial 2D and 3D Computed Tomography inspection at its newly opened Inspection Services Laboratory in Orlando, Florida. "North Star Imaging manufactures industrial X-ray systems in Minnesota. We've sold many X-ray systems in the US, Europe, Asia, and other parts of the world. We also offer Inspection Services, at our various global locations to address the demand for quality inspection of parts and components that are critical to other business", says Seth Taylor,
...Read More.
Alltranstek Restructures Technical Service Department
Posted:

2022-10-18
AllTranstek, LLC has recently restructured its Technical Services Department. "We believe these changes will leverage the incredible talent already on this team to better serve our clients now and well into the future." says AllTranstek President Jeff Wilson. Steve McCullough has been promoted to Vice President of Technical Services, leading the Technical Services Department of AllTranstek. McCullough has 30+ years of rail industry experience and has his NDT Level III certifications in VT, MT, PT, LT
...Read More.

Hitachi Launches Lumada Inspection Insights
Posted:

2022-10-18
Hitachi, Ltd. (TSE:6501) has announced the launch of Lumada Inspection Insights, its end-to-end portfolio of digital solutions for the inspection, monitoring, and optimization of critical assets. Pioneered by Hitachi Energy and Hitachi Vantara, Lumada Inspection Insights enables customers to automate asset inspection, support sustainability goals, improve physical security, and reduce risks and impacts related to storms or fires by using powerful artificial intelligence (AI) to analyze photographs and video
...Read More.
Eddyfi Technologies Supplies Shell with Robotic Solution for Safer Autogas Tank Inspection
Posted:

2022-10-14
Following Shell Bulgaria's formal announcement, Eddyfi Technologies is pleased to confirm its collaboration with the industry leader to identify a safer alternative to manned inspection of autogas tanks: purpose-built inspection robots. Shell has implemented robotic vessel inspection in many of the countries where it operates. It is actively pursuing this remote non-destructive testing (NDT) be legally recognized as an alternative to Bulgaria's official inspection which necessitates confined space entry, or
...Read More.
Next 10 >>>
Displaying 21 through 30 of 200

More Newss: 1 | 2 | 3 | 4 | 5 | 6 | 7 | 8 | 9 | 10 | 11 | 12 | 13 | 14 | 15 | 16 | 17 | 18 | 19 | 20