NDT News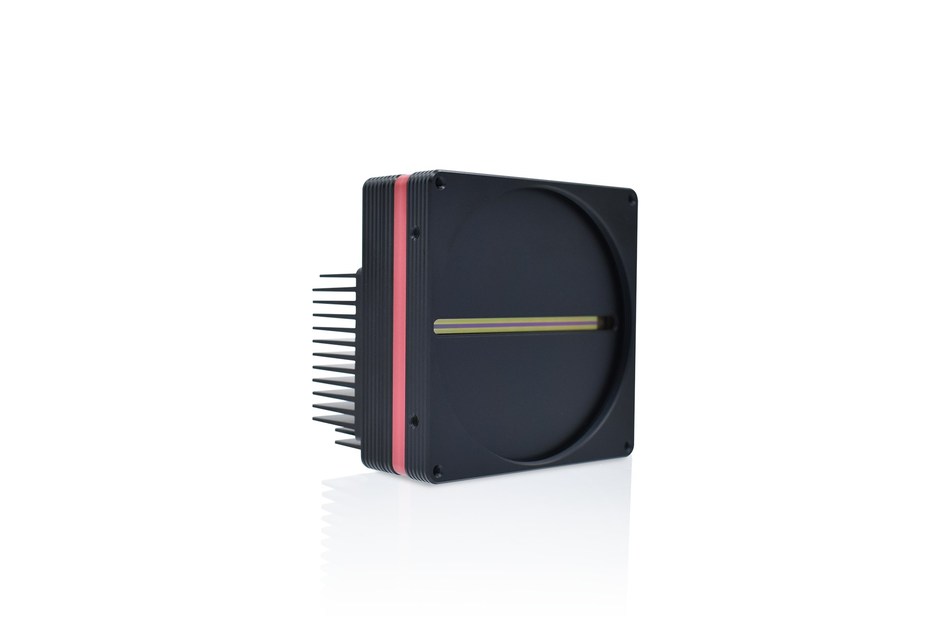 Vieworks to reinforce its portfolio with superfast 16k TDI Line Scan Camera
Posted:

2020-8-31
Vieworks, a global leader in machine vision industry, launched its newest 16k hybrid Time Delayed Integration (TDI) line scan camera – VT-16K5X-H300. The latest model in Vieworks' VT Series of TDI cameras achieves a maximum line rate of up to 300 kHz with up to 256 x higher sensitivity. With such improved speed and sensitivity, VT-16K5X-H300 is expected to respond to market's ever-increasing need for high performance cameras for demanding applications such as flat panel display inspection, wafer inspection,
...Read More.
Using Positron Beams to Probe Radiation Damage
Posted:

2020-8-31
A multi-institution team has used positron beams to probe the nature of radiation effects, providing new insight into how damage is produced in iron films. This exploration can improve the safety of materials used in nuclear reactors and other radiation environments. "Positrons do not damage the material and they can reveal defects involving single atoms at very small concentrations," said Blas Uberuaga, a Los Alamos National Laboratory materials scientist on the project. "They are thus one of the
...Read More.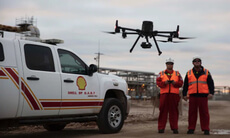 Shell and DJI Partner To Innovate Drone Technology
Posted:

2020-8-31
DJI, the world's leader in civilian drones and aerial imaging technology, announced a Solution Development Partnership with Shell Oil Company to create, test and deploy DJI drone technology at its Deer Park Manufacturing Complex to improve efficiency and worker safety during industrial inspections and emergency incident response. "As one of the world's largest energy companies, Shell has provided us with valuable insight into the unique challenges of conducting aerial inspections at one of its largest f
...Read More.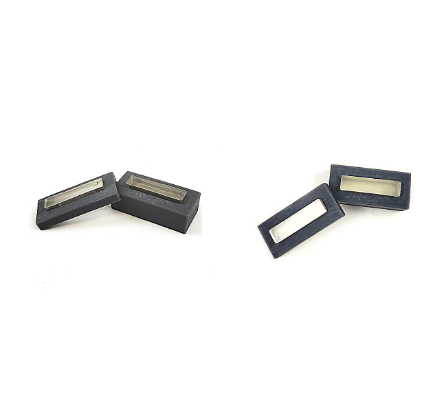 New Zero Degree Phased-Array Delay-Line Released by Innovation Polymers
Posted:

2020-8-27
Can be customized for different holder and polymer stand-off lengths Innovation Polymers just released a new line of Zero Degree Phased-Array Delay-line probes and holders using Aqualene™, ACE™, and Aqualink™. Currently, these delay-line units come with a holder designed to mount a standard Olympus A12 or M2M G3 probe. Holders are designed to permit the delay-line to protrude 3mm from the holder to accommodate minor contour variations of the test surface. The process Innovation Polymers uses allows
...Read More.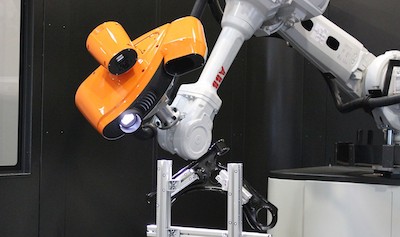 ABB Strengthens Digital Offering with 3D Inspection Technology
Posted:

2020-8-27
ABB announced today that it has acquired the Spanish start-up company NUB3D, a leading innovator of digital, 3D inspection and quality-control solutions. The acquisition expands the group's portfolio of ABB Ability™ solutions that connect customers to the industrial Internet of Things. ABB Ability builds on the intelligent cloud, using connected devices to generate actionable digital information for a broad range of customers. The two companies have agreed not to disclose the value of the transaction.
...Read More.
TSP and Createc Kick Start Robotic Weld Inspection for Nuclear
Posted:

2020-8-27
TSP Engineering are delighted to announce that we are part of a consortium that has won a major contract as part of a £40million government initiative to kick start a clean energy economic recovery. The programme funded by the UK Government aims to create thousands of manufacturing and green R&D jobs through developing the next generation of nuclear energy technology. The project has been designed to support the UK's economic recovery and meet the target of net zero emissions by 2050. Developing and p
...Read More.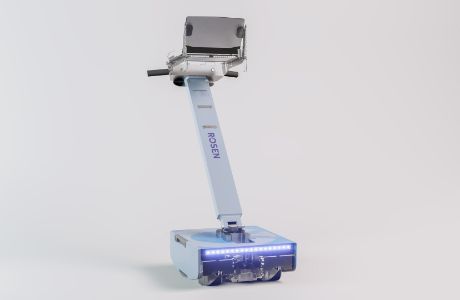 Rosen Group Unveils New Tank Bottom Inspection Service
Posted:

2020-8-27
Stans, Switzerland, July 2020 – The ROSEN Group introduces the new TBIT Ultra service for inspection of Aboveground Storage Tanks. The complex nature of corrosion has compelled ROSEN's inspection and integrity specialists to consistently improve their knowledge, build experience, and advance technology in automatic corrosion detection and defect quantification. Early identification and repair of time-based threats, such as corrosion, means assets can remain in service safely, for longer. This benefits th
...Read More.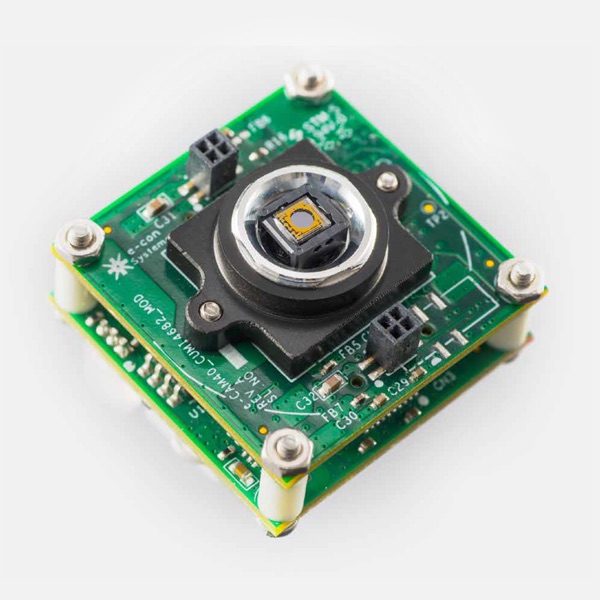 Unispectral Debuts ColorIR™ Tunable NIR Filter and Spectral IR Camera
Posted:

2020-8-27
Unispectral's miniature tunable filter turns low cost IR cameras into 700-950nm spectral cameras. It is best suited for facial recognition, consumer portable devices, IOT, robotics and mass market cameras. ColorIR products enable advanced machine vision, material sensing and computational photography. TEL AVIV, Israel, July 20, 2020 /PRNewswire/ -- Unispectral, developer of the ColorIR™ filter, today announced the availability of a new Evaluation Kit for its tunable NIR filter and camera. The core pro
...Read More.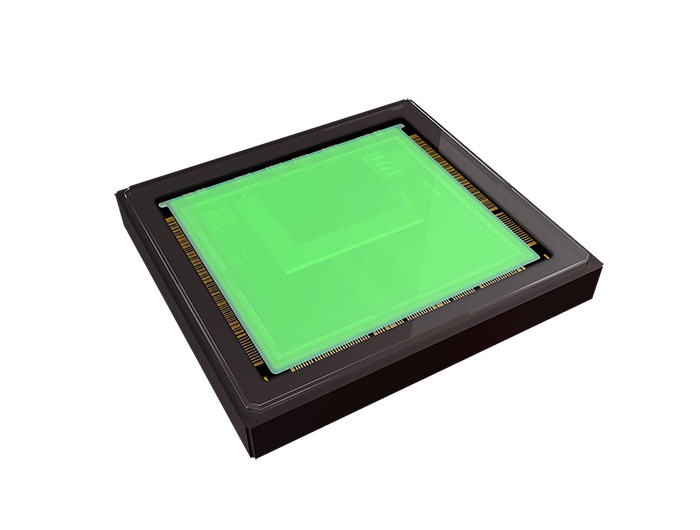 Teledyne Imaging to Supply Image Sensors for New Copernicus
Posted:

2020-8-27
Teledyne e2v, a business unit of Teledyne Technologies Incorporated (NYSE:TDY) and part of the Teledyne Imaging Group, has been selected through the grouped proposal of the European Space Agency's (ESA) industrial policy committee to place six Copernicus Sentinel satellite missions to provide the image sensor technology. The two missions, CHIME and CO2M, funded by ESA, incorporate image sensors at the heart of the instruments and will utilize Teledyne Imaging's technology. The Copernicus Hyperspectral
...Read More.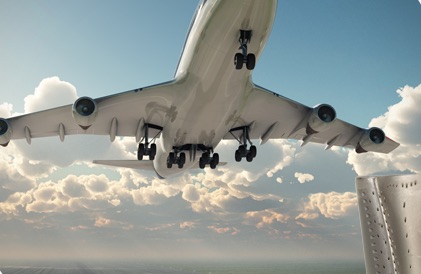 Vibrant Brings Its Revolutionary Resonance Nondestructive Testing To Airbus
Posted:

2020-8-27
Vibrant today announced a partnership with Airbus to employ its revolutionary Process Compensated Resonance Testing (PCRT) on additive manufactured Airbus A350 door latch shafts. Airbus Helicopters recently shifted from manufacturing the parts via traditional machining to more advanced 3-D printing additive manufacturing. Vibrant's solution is currently under investigation to allow the aircraft manufacturer to save considerable time and cost while ensuring same quality final products. "Vibrant's PCRT all
...Read More.
Next 10 >>>
Displaying 21 through 30 of 200

More Newss: 1 | 2 | 3 | 4 | 5 | 6 | 7 | 8 | 9 | 10 | 11 | 12 | 13 | 14 | 15 | 16 | 17 | 18 | 19 | 20