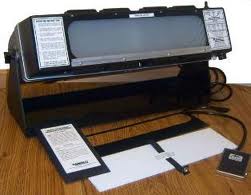 Radiograph Film Viewers (Illuminator)
Company: REMSCO
Contact: Billy Peikert
Address1: 500 Hensley Dr.
City: Grand Prairie
State: Tx
Country: USA
Phone: 214-708-3933
Fax: 214-432-4191
SB-900: 6 EZK 120V lamps, stainless steel footswitch, power cord, base turning knobs, warranty, specifications, certificate of Compliance and instructions. Automatic temperature limit switch, dimmer switch and cooling fans.

SB-900X (Export): 6 ENH 240V lamps,(200 hrs.) stainless steel footswitch, power cord,warranty, specifications, Instructions,Certificate of Compliance. Automatic tempeature limit switch and cooling fans.

Meets or exceeds the requirements of INT. Codes.
American Society for testing Materials E-1390-90 Europe Committee for Standardization EN-25-580 International Organization for Standards ISO-5580-1985 (E) United States Department of defense MS-453-C
REMSCO products were designed and manufactured originally by, Virgil Reed and have been on the market since 1975 with many revisions and updates to make it the best portable x-ray (illuminator) on the market. Previously a Houston base operation, Now located in (Dallas) Grand Prairie, Texas.