The NDT.org Product and Service Directory is a nondestructive testing and inspection product showcase viewed by thousands of NDT professionals every day, and will give your company qualified leads for inspection products and services.
Looking for used equipment? Click here to go to the classifieds.
Mark 4 Tank Floor Scanner from MFE Enterprises
The Mark IV takes the precision, reliability, and durability of its predecessors to another level with upgraded, user-friendly software and a lightweight build. Its slim design boasts an unprecedented weight of only 65 lb. The convenience of using the new Mark IV will be outweighed only by the ...
Electromagnetic Ultrasonic Thickness Gauge CTS-409 from Guangdong Goworld Co., Ltd.
CTS-409 is a portable electromagnetic ultrasonic (abbr. as "EMAT") thickness gauge newly launched by Goworld for the purpose of working on any metal or magnetic materials under couplant-less conditions, without direct contact onto them. Impervious to surface of the object, it is applicable to those ...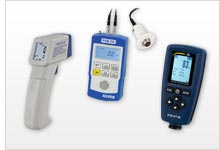 Material Thickness Meters from PCE Americas Inc
PCE Instruments' material thickness meters make onsite nondestructive testing (NDT) a snap. Each PCE Instruments' material thickness meter is lightweight and user-friendly, allowing both ease of portability and ease of operation. Thus, measuring the thickness of walls and materials such as metal,...
Workpad NDT Cloud from Workpad LLC
Workpad, built for NDT, provides easy and secure cloud sharing of large videos, files, and images. Upload videos or images from any device, and they are automatically converted into streaming format so anyone can easily stream high resolution video to their desktop, mobile, or tablet. Hosted in US, ...