The NDT.org Product and Service Directory is a nondestructive testing and inspection product showcase viewed by thousands of NDT professionals every day, and will give your company qualified leads for inspection products and services.
Looking for used equipment? Click here to go to the classifieds.
PragmaPro from PRAGMA
PRAGMA is proud to introduce the new PragmaPro instrument platform. It boasts a 9-inch ultra-bright display with multi-touch capability, a 1 GHz quad-core processor, two hot-swap batteries for up to 12 hours of operations, four USB connectors, Gigabit Ethernet, WiFi and many other latest technologi...
OmniScan® SX Ultrasonic Flaw Detector from Olympus IMS
Olympus' OmniScan SX flaw detector features a streamlined software interface displayed on an 8.4-in. (21.3 cm) touch screen. The OmniScan SX flaw detector comes in two models: the SX PA and SX UT. The SX PA is a 16:64PR phased array unit which, like the UT-only SX UT, is equipped with a conventional...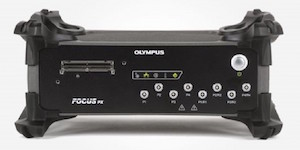 FOCUS PX™ Phased Array and Conventional Ultrasonic Data Acquisition Instrument from Olympus IMS
The FOCUS PX™ instrument is a rugged, high-performance acquisition unit that uses phased array and conventional ultrasound to perform nondestructive inspections. Using our latest technology, the FOCUS PX unit provides excellent phased array signal quality for an improved signal-to-noise ratio. The F...
Flexible Ultrasonic Phased Array Probe for Complex Shape Inspection from Guangdong Goworld Co., Ltd.
Background Performing high-resolution ultrasonic thickness mapping of complex shapes with changing geometries, such as elbows, is very challenging. To address such applications, Goworld has developed its first flexible ultrasonic phased array probe that is capable of conforming to complex shapes ...
Small-Dia Tube PA Scanner from Guangdong Goworld Co., Ltd.
Description Goworld has newly launched the small-diameter tube scanner. capable of detecting tubes with outer diameter ranging from 0.84 inches (20mm) ~ 4.5 inches (114.3mm). It's a type specialized for butt-jointed seams on small-dia tubes. Chain-styled, the joints can be assembled or diass...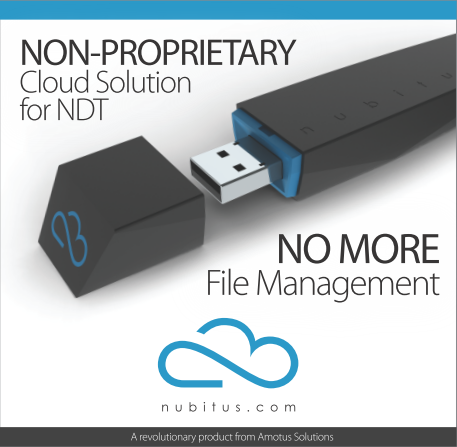 Nubitus Cloud Key from Amotus Solutions
Reduce your manpower cost - the shortest path from your NDT equipment to the cloud. Nubitus is an ideal way to manage and transfer your data to your secured data servers, cloud solutions, or simply by e-mail. Nubitus acts as a simple USB storage device; it automatically transmits files to ...
OmniScan MX2 from Olympus IMS
The OmniScan MX2 family of ultrasonic flaw detectors with touch screen interface offers increased testing efficiencies and powerful new on-board and PC-based software features, ensuring superior manual and advanced AUT application performance with fast setups, test cycles, and reporting. Th...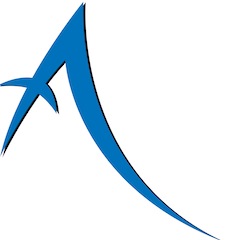 NDT Professional Services from Arcadia Aerospace Industries
AAI's experienced full-time team of engineers and NDT professionals can work with your company to help define NDT requirements, machine design for custom inspection applications and help implement a qualified NDT Program within your facilities. Our team is designed to partner with clients to ...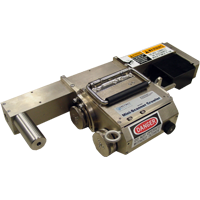 Pocket UT Mini Scanner from Mistras Group, Inc.
The fully automated MINI Scanner is designed to inspect flat plate or pipe down to 3" in diameter. Featuring powerful magnetic wheels, the MINI Scanner is at home scanning vertically or even upside down! Inspection scanning speeds are as high as 6" per second, with an indexing/crawling speed o...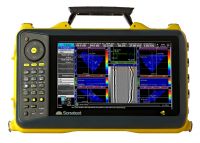 Veo from Sonatest
The Veo Phased Array ultrasonic flaw detector reinforces Sonatest's reputation for innovative technician focused product development. The veo's simple controls, superior performance, advanced features and rugged enclosure deliver simplicity, capability and reliability to the technician's finge...