The NDT.org Product and Service Directory is a nondestructive testing and inspection product showcase viewed by thousands of NDT professionals every day, and will give your company qualified leads for inspection products and services.
Looking for used equipment? Click here to go to the classifieds.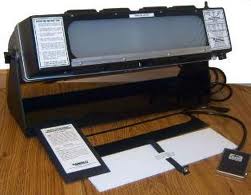 Radiograph Film Viewers (Illuminator) from REMSCO
SB-900: 6 EZK 120V lamps, stainless steel footswitch, power cord, base turning knobs, warranty, specifications, certificate of Compliance and instructions. Automatic temperature limit switch, dimmer switch and cooling fans. SB-900X (Export): 6 ENH 240V lamps,(200 hrs.) stainless steel footswitc...